Horror After Professor Caught With X-Rated Content During Class: 'Creepy'
A college professor's x-rated tab history has gone viral online, with the internet castigating his taste in adult entertainment given his profession.
In a viral post, which can be seen here, shared on Reddit's 1.8 million-member-strong r/MeIrl, user u/The GoddamnAnswer shared a photo they said had been taken during class.
The photo revealed the apparent tabs that were open while the professor was sharing his screen.
In the bookmarked tab, the words "busty college girl fu…" could be seen on the screen above the content the professor had intended to show pupils.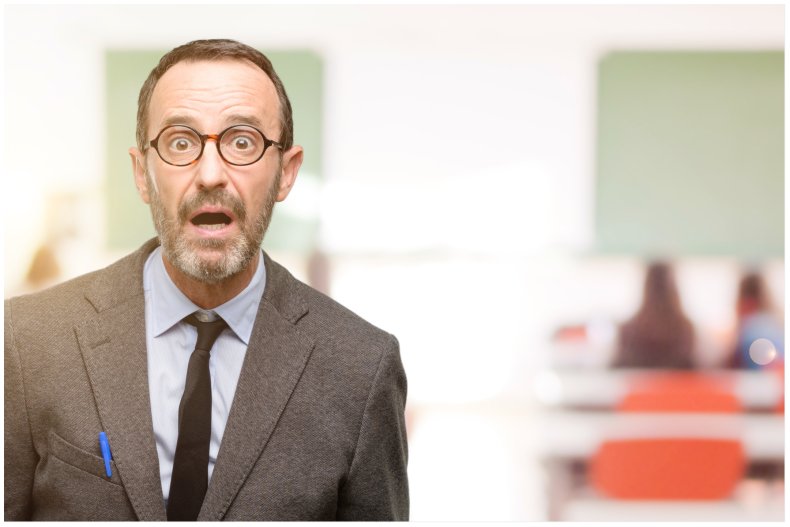 "I'm dying rn my professor is sharing his screen and this is one of the tabs," read a caption under the photo.
A 2021 study carried out by the Department of Psychology at the Franciscan University of Steubenville, Ohio, found 56.6 percent of the 1,031 people surveyed reported a lifetime of pornography use.
The survey also found that a "significantly higher proportion of males than females reported such use."
Since being shared to Reddit on June 26, the post has attracted more than 51,700 upvotes and some 2,450 comments.
Many of those joked about the situation, while several people noted the content in the tab was highly inappropriate for a professor.
One Reddit user said: "Well, he's in a position of authority so there is that. He's basically playing with fire. Maybe he won't get burned. But he's definitely playing with fire."
Another posted: "Best part is, that's not a tab, that's a full-on bookmark."
While a third commenter added: "I mean it's a lil creepy considering the subject and his occupation."
Newsweek has contacted TheGoddamnAnswer for comment.
There have been numerous instances where teachers and college professors have been found to have engaged in inappropriate behavior.
Earlier this year, students in Portland, Oregon, called for a college professor to be fired after they claimed he made comments described as "offensive and racist."
The video, first shared on TikTok showed a man in the driver's seat of a vehicle with the window rolled down.
In the clip, which began while he was mid-sentence, the made could be heard saying "...hiring illegal immigrants" to a person off-camera.
He then asked if the person was born in the U.S. and when the person off-camera said where they were born, the man asked "Where?"
The person then replied: "Here, here's where."