Horror at Bride 'Screaming' at Teenage Guest Over Wedding Outfit
A bride has been slammed for screaming at a teenage guest who chose to wear a romper instead of a dress to her wedding.
In a viral Reddit post, user etoile-kim, a gender-fluid 16-year-old, explained that they had been told they had to wear a dress to the wedding of a family member.
The teenager did not feel comfortable with this, as they do not identify as female, and looked for a compromise. The bride "insisted that I wore a dress," they wrote.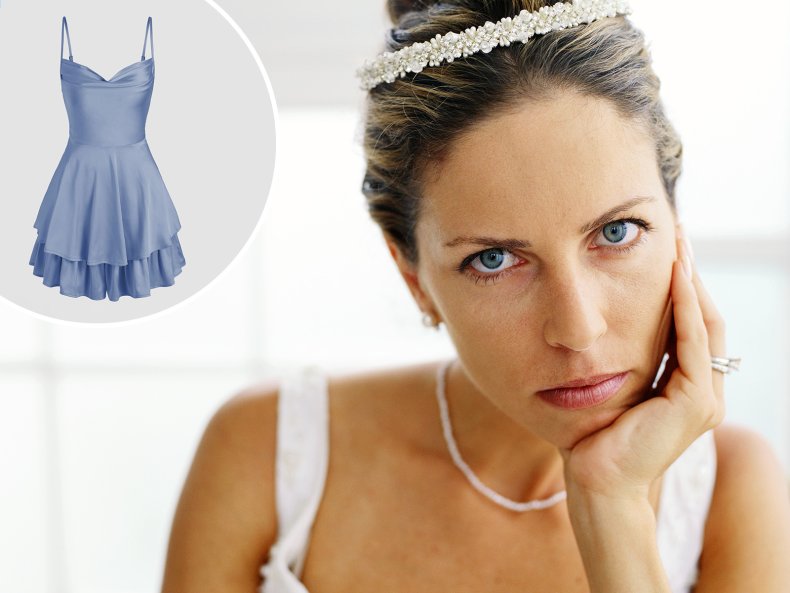 Eventually, the teenager found a formal blue romper "that looks very much like a dress at first glance. It's genuinely not noticeable unless you look closely that the bottom part is not a skirt."
They explained: "I wore it to the wedding and for the first part everything seems OK until I am pulled along too hard by a kid and end up tripping and falling face first, sprawled out on the floor.
"As everyone nearby gathers around to see what happened, the bride notices that the bottom part of my outfit is shorts and not a skirt, and loses her s*** and starts screaming at me that she made it clear I needed to wear a dress and that I was being selfish by going against her wishes on her special day."
The poster added that they are sensitive to loud noises due to their autism, and started to cry because of the pain from scraping their leg combined with the yelling.
"My cousin leads me away to treat my wound, the bride stalks off still fuming and won't speak to us for the rest of the night until we eventually leave at the end of the wedding.
"I was reassured by some members of my family that I didn't do anything wrong, but I'm still super hung up over it and wondering if it was bad of me to wear it."
A Pew Research Center survey conducted in May 2022 found that about 5.1 percent of adults younger than 30 identified as trans or nonbinary. The percentages for other age groups are smaller: 1.6 percent of 30 to 49-year-olds and 0.3 percent of people aged 50 and over.
However people identify, they should feel comfortable at weddings, according to Zoe Burke of planning website Hitched.
Burke told Newsweek: "It's really important at a wedding that you are able to feel comfortable and happy with what you're wearing. I hate hearing about wedding party members or guests who have had to adhere to a dress code or outfit that makes them feel self-conscious or unhappy."
She added: "Over the past year, we've definitely seen a growing interest in nonbinary wedding outfits. Last year we saw traffic to our edit of nonbinary wedding outfits grow by 135 percent over a six-month period as more people searched for the term. Jumpsuits, rompers and trouser suits are all sleek and stylish options for wedding guests. Restricting people to one particular type of clothing seems unnecessary.
"It sounds to me like the bride had a very specific vision of her day in her head and got caught up in this, but that is not an excuse for how she behaved. I would advise anyone who feels uncomfortable with a dress code to speak to the couple first and share some options with them, as well as how you feel about it. Hopefully, then a rational conclusion that suits everyone can be reached."
What Was Reddit's Verdict?
The 16-year-old's post has been upvoted about 13,200 times since it was shared on Sunday, February 5. Most commenters were highly critical of the bride.
Reddit user AdmiralBofa, whose comment was upvoted more than 28,600 times, wrote: "Dress codes for non-wedding party members are usually for a level of formality, not a prescription for a particular article of clothing. If you can't even tell the outfit isn't up to code without a trip and fall accident, I can't see what the problem would be."
SneakyRaid posted: "Imagine being in the middle of a celebration because you are (hopefully) spending the rest of your life with the person you love and losing it because of a fake dress that you couldn't even tell is a fake dress. Talk about messed up priorities."
DoomsdaySpud commented: "I can see her then going from person to person lifting their skirts to make sure they are all actually dresses."
Has a wedding harmed your relationship with a loved one? Let us know via life@newsweek.com. We can ask experts for advice, and your story could be featured on Newsweek.