Horror at Christmas: The Starbucks Red Cup Isn't Red This Year, So Cancel the Holidays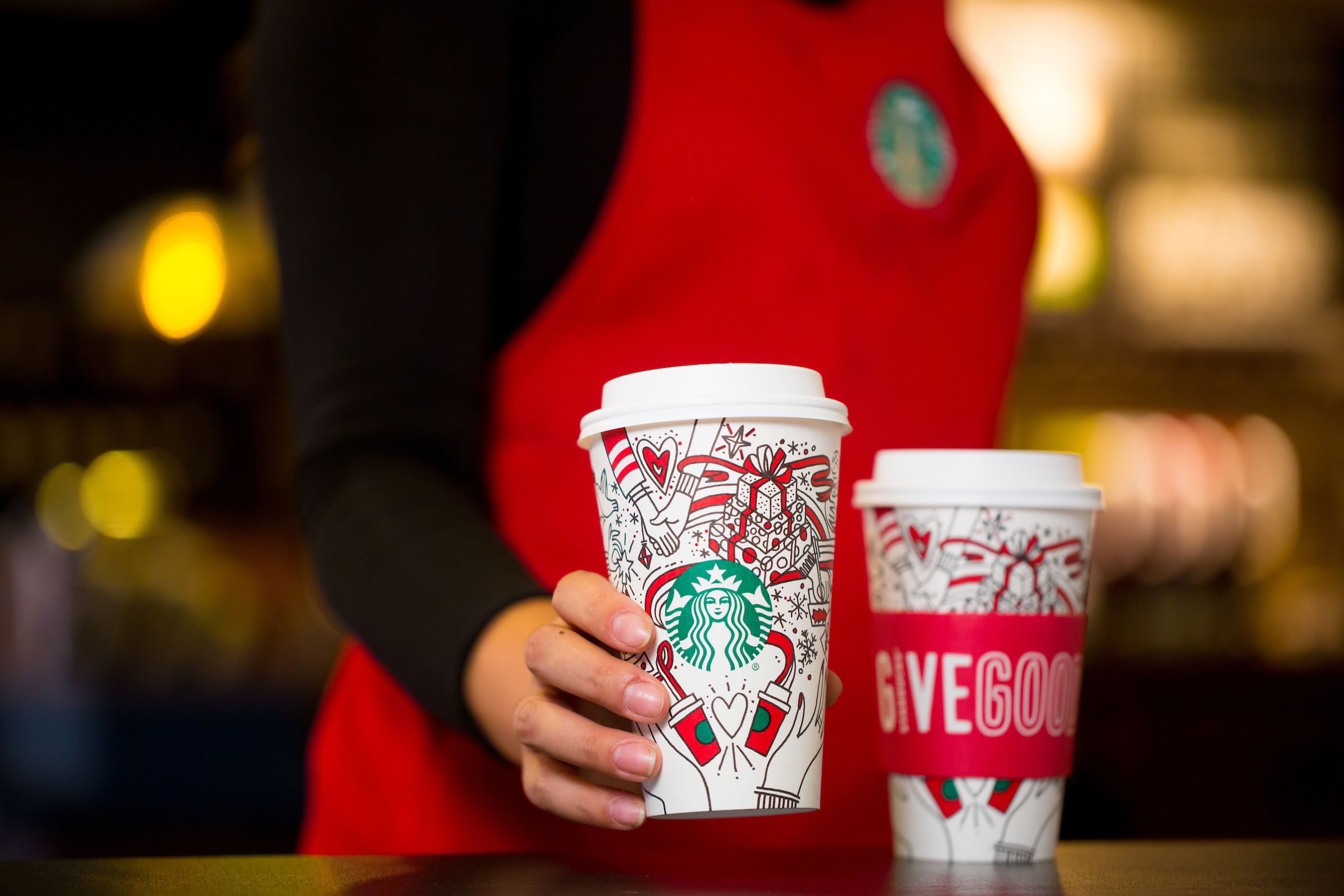 As the calendar turns from October 31 to November 1, it's time to pack away your Halloween costumes for another year and get into the festive spirit—because the countdown to Christmas is on.
And, perfectly on cue, Starbucks has unveiled its annual red holiday cups—except there's one problem. They're not all that red this year. Quelle horreur.
The coffee chain's holiday cup for 2017 is a fairly plain white cup featuring the outline of various images, including two people holding hands. The reason for this is because Starbucks is hoping to inspire you to color in your own cup. Could #CoffeeAndCrayon be the new #NetflixAndChill?
"This year's cup is intentionally designed to encourage our customers to add their own color and illustrations. We love the idea of everyone making this year's cup their own," said Starbucks's executive creative director Leanne Fremar.
Illustrator Jordan Kay added: "I liked the idea of hands as the centering point, a symbol of connection, love and giving joy. Whether it's wrapping presents or decorating a tree, writing cards or enjoying a mug of cocoa."
Of course, for coffee lover across the globe, the annual return of the Starbucks red cup has been a hallmark of the start of the holiday season.
And it's not just the red cups that we love, it's also what goes in them. Starbucks says it's limited festive coffee offerings this year will include Chestnut Praline Latte, Caramel Brulée Latte and Peppermint Mocha.
In 2016, Starbucks crowdsourced the designs for its holiday cups from customers worldwide. It picked 13 different designs from six countries that were submitted via Instagram.
In 2015, President Donald Trump, then on the campaign trail, floated the idea of boycotting Starbucks after it revealed a two-toned plain red cup as its holiday offering. Trump felt Starbucks had cowed to political correctness by no longer using the phrase "Merry Christmas."