Horror as Human Feet Discovered in Crocodile's Stomach: Police
Police in Zambia are investigating the grisly discovery of two human feet found in the stomach of a crocodile that had recently been killed.
According to a statement issued by Copperbelt Police Commanding Officer Peacewell Mweemba, the feet were found on Monday at about 2 p.m. in the mining town of Mufulira, close to the Zambian border with the Democratic Republic of Congo.
A local resident, Kidwell Marowatsanga, reported the discovery to a Kansuswa police post. The crocodile involved had been previously killed. However, the circumstances surrounding the reptile's death aren't yet known.
Authorities say that while there have not been any recent police reports of a missing person, their preliminary investigations into the incident indicate the deceased was likely a missing person who fell victim to a crocodile attack.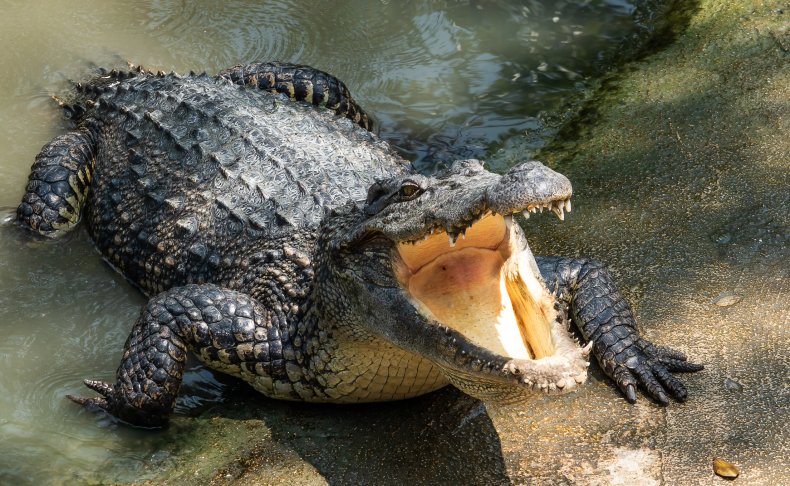 Mweemba told news outlets: "We received information from Kidwell Marowatsanga to the effect that two human feet were found in the stomach of a crocodile which they killed.
"The police rushed to the scene and took photographs of the same. The two human feet have been picked [up] and taken to Ronald Ross hospital mortuary pending investigations."
Newsweek has reached out to Copperbelt police and Kidwell Marowatsanga for comment.
The report of the suspected crocodile attack comes hot on the heels of several notable near-misses involving the fearsome reptiles.
Back in February, a 12-foot long saltwater crocodile was shot dead in Australia after aggressively pursuing a surfer along North Wall Beach in Mackay, Queensland.
The situation then threatened to turn deadly when the reptile began terrorizing other swimmers in the area with reports describing how several people had to "scramble up a rock wall" to avoid the crocodile.
There was an even closer call in Namibia back in January, where a nine-year-old girl was rescued from the jaws of a crocodile thanks to the efforts of her brother, who wrestled the reptile until it let his sibling go.
The dramatic incident unfolded in Kavango West, where the young child had been fetching water from the Okavango River to bring back to her village in Ntara. Despite being seized and bitten around the left side of her ribs and on her inner thigh, the young girl was saved.
Others have been less fortunate though. In December 2022, a family in Australia were left devastated after a 99-pound crocodile attacked and ate their beloved Labrador "in one bite" while out on a morning walk.
According to animal behavior researcher Leoma Williams at BBC Wildlife, saltwater crocodiles are responsible for an estimated 1,000 human deaths per year, though these kills are often viewed as "opportunistic" rather than as part of a planned hunt.
That's still far less than freshwater snails, which cause an estimated 200,000 deaths a year, and mosquitos, which can cause up to 1 million.