The Lie of Kitty Genovese's Murder Lives on as Allegory of Urban Despair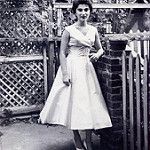 Near the conclusion of the astonishing new true-crime documentary The Witness, William Genovese hires a woman to play his sister. That sister was Kitty Genovese, and her 1964 murder outside her home in Kew Gardens, Queens, was the moment New York City's post-war glory faded for good, ushering in a more ominous epoch. There were many other factors that turned Fun City into Savage City—racist housing policies and police brutality high on that list. But systemic crimes can be hard to grasp in the tumult of the present. Not so with a pretty, young woman stabbed a dozen times in a two-stage attack that lasted for 30 minutes and was, according to legend, witnessed by 38 people, none of whom came to her aid or even called the police.
Genovese, who lost his legs in the Vietnam War, watches from his wheelchair as the actress, Shannon Beeby, walks to the spot where, at about 3 a.m. on March 13, 1964, Catherine "Kitty" Genovese was set upon by Winston Moseley, a native of Queens who operated a computer for a living and, in his free time, raped women and killed them. He also was a married father of two.
"Help me! Help me!" Beeby screams into the cold spring night, at the Tudor apartment buildings, with their rectangles of yellow light. Then, as now, the people in those buildings were in the middle of the middle class. They went there, into the suburban fold of Queens County, for quiet. And now the night's silence has been broken by a woman's call for help.
The camera turns to Genovese, who regards with a pained intensity the snuff film he has set in motion. He watches Beeby follow in his sister's footsteps, into the vestibule of the apartment building at 82-70 Austin Street, where she continued to shout her pleas for help. After first attacking her on the street, Moseley followed her in the building. He stabbed her a few more times and raped her. Then he left.
In the years that followed, "Kitty Genovese" was what New Yorkers said when asked why they were moving out to Long Island or Bergen County or Westchester. It was the warning to children when, like many in the early 1990s, they announced an inexplicable return to Brooklyn, still dangerous and raw. Genovese achieved the dream of many who come to New York, which is to become famous. In the iconic photograph of Kitty, her angular face and short hair suggest a rock star from the second half of the Sixties, not a crime victim from the first.
The Witness, from first-time filmmaker James Solomon, is full of arresting moments like the one above. Its protagonist is not Kitty but Bill, the brother who cannot let her case rest, who cannot trust the press or the police with her story. This documentary reminded me of another, Matthew Heineman's superb Cartel Land, about vigilantes on the Mexico-U.S. border. On the surface, the two films are nothing alike, but they are in fact both about men who believe they know what justice is, men of such moral purpose that the authorities, with their plodding investigations and burdensome rules, can only be a hindrance.
William Genovese is not a gun-toting vigilante. But he was close to his only sister, who stayed in New York as the rest of the family decamped for the stifling Connecticut suburbs. A graduate of the Prospect Heights High School in Brooklyn, Kitty was working at Ev's Eleventh Hour, a bar in Hollis, Queens. She had briefly been married to a man. Then she was living in Queens with her girlfriend, Mary Ann Zielonko.
Solomon follows Genovese as he takes apart the central tenet of the Kitty Genovese myth: that 38 people heard her cries, and not one of them did a thing, even though there was plenty of time to stop Moseley, as well as terrifying evidence, in Kitty's screams, that something far worse than a purse-snatching was taking place.
The progenitor of this myth was Abe Rosenthal, the New York Times editor who gave Kitty's story prime front-page acreage. He and reporter Martin Gansberg crafted a story that was so compelling, many forgot to check the facts. That would remain true for decades, as the story entered the narrative of American urban despair. At a forum on public safety at Brooklyn College in 1994, then-president Bill Clinton alluded to Genovese, and how the silence of her neighbors suggested that modern society had left us "fundamentally alone," so that "the value of responsibility had already come to mean only responsibility for yourself."
It was not quite so. Yes, there were at least two men who probably could have stopped the attack but there was also Sophia Farrar, a neighbor who cradled Genovese as she died. "She was my friend, and I knew she was hurt and she needed help," Farrar tells Kitty's brother a half-century later.
Others have taken apart Rosenthal's story, including the Times itself, in a definitive 2004 account by Jim Rasenberger. But there is something unspeakably compelling about watching Bill Genovese try to discover the truth on his own. He tries to visit Moseley in prison, but the request is denied. Maybe that's for the best. A visit from Moseley's son is harrowing enough, with Moseley fils suggesting that Genovese has ties to organized crime because of his last name. Visits with Rosenthal, the attorney who tried the case and the witnesses who saw the killing make thrilling the act of memory. How will they explain themselves? How much more do they know? And how much do they regret? As with all great true-crime narratives, smaller failings of the human spirit are just as engrossing as the biggest ones.
Despite these efforts, Genovese can never uncouple his sister's name from the notion of collective inaction. New facts may come to light, but the central truth of the complicit 38 will remain, in good part because we need a case to illustrate the hold apathy has on the fragile human psyche. We are doing nothing all the time, whether in regards to the refugees from Syria or the homeless clustered on Ninth Avenue. Kitty is always screaming, and we are always drawing the blinds.