Horse Caught Sneaking into Luxury Building Elevator on Security Footage
Footage of a rogue horse going for a ride in a luxury building's elevator may have impressed viewers worldwide, but infuriated tenants and management.
Police have taken launched a formal investigation after a Tel Aviv apartment complex's security system caught two men sneaking a horse in on an elevator on Tuesday.
The video, which has since been posted across social media, shows the two unidentified men approaching the Park TLV's right elevator wing. They let the first empty elevator go by and chat while they wait for the next. Another resident even joins the horse and its handlers in the elevator bank.
When the left elevator arrives, the owner and the horse manage to squeeze inside, but the horse backs out as the elevator nearly closes.
The video ends as the men walk the horse away as the female resident enters the elevator.
Viewers across the internet found the situation highly amusing. "Hmm, guess the horse is going to have to take the stairs. Too much junk in that trunk," a Redditor commented.
"The main thing is that the elevator is not stuck," a concerned Twitter viewer remarked.
According to Y Net News, the security footage eventually made its way to the apartment residents' WhatApp group chat. They deduced that the horse's owner managed to get the animal up to the sixth floor in another elevator and believe that the horse lives on one of the local agricultural farms.
Police subsequently arrested both men and held them on animal abuse charges following tenant complaints. Although one was later released, the other was found in violation of his house arrest for a separate charge. He was scheduled to appear in court on Wednesday, Y Net News reported.
Neither men believe they did anything wrong. According to The Times of Israel, the horse's owner told reporters: "I came to visit a friend. I didn't think it would be a problem to bring a horse into the building. It wasn't written anywhere that it's forbidden to bring a horse in."
"I couldn't leave it outside," he added. "It's an expensive horse and it would be stolen from me."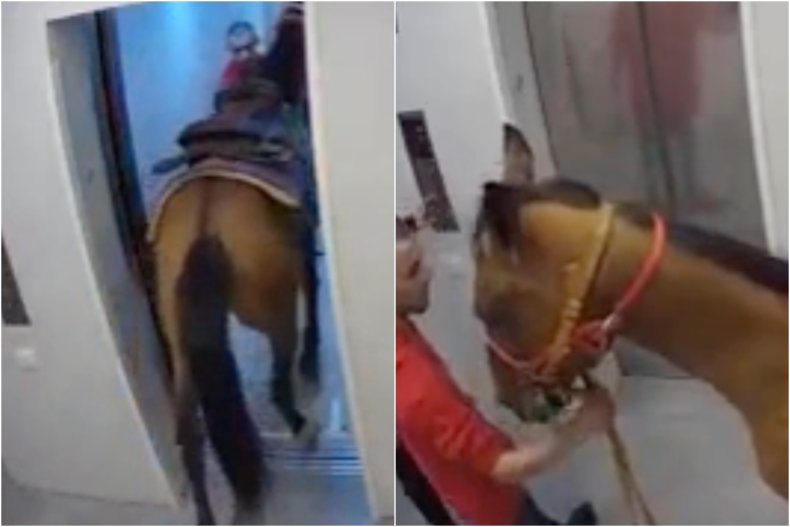 Y Net News reported that while police continue their investigation, the Tel Aviv-Yafo Municipality, the local administrative branch of government in the area, are unable to help. The outlet claimed that because the building is not a part of public housing, the case is out of the Municipality's jurisdiction.
The Times of Israel did note that the Municipality's veterinarians will be able to perform a welfare check to verify that the horse was not abused.
Another shocking horse video recently went viral as well, though for a much more serious reason. In early March, footage emerged of an amateur jockey allegedly jumping on a deceased horse.