Video: A Horse Walks Into a Bar, but This Time It's Not a Joke
It may sound like the start of a joke, but a horse actually walked into a bar last week, causing customers to run in panic.
As people calmly enjoyed their beverages at the bar in Chantilly, north of Paris, they were startled and forced to react quickly as a racehorse galloped into the building. A video captured by security cameras shows the moment when the animal enters rapidly.
First, you can see customers frantically moving out of the way. Then the horse, with its saddle falling off, gallops through the pub before turning to head back the other way.
Jean-Marie Beguigne, the horse's trainer, said that the animal had kicked off its rider before running off, The Independent reported. It came from racecourse stables located less than a mile away, however Beguigne still said such an escape was unusual.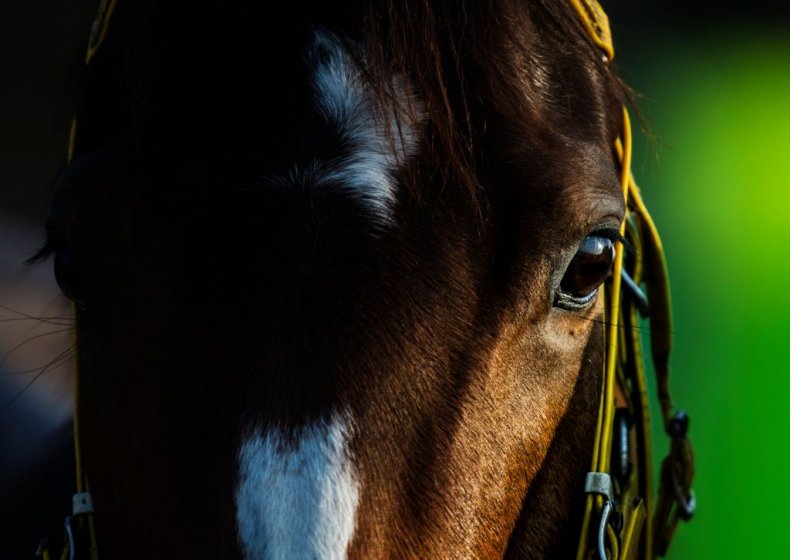 "Between the track and the stables, her rider fell off. The filly escaped by going on to the road, and crossing a roundabout before entering this bar," she said, according to the British newspaper. "It is all quite exceptional."
Perhaps aiming to shore up support, the racehorse ironically chose to enter a pub connected to France's state-controlled betting system. The bar features counters to place bets and also television screens showing horse races.
"She pushed the door open, and raced straight for the betting corner," the pub's owner Stephane Jasmin quipped, posting the video to YouTube. "Then the filly turned around, breaking a table and chairs. We've never seen anything like it," she added in the post.
Other than the broken furniture, there were no major problems. Nobody was injured and the horse was reportedly in good condition after it was finally corralled.
In related news in England, a horse also entered a bar on Friday. However, the incident was quite different, taking place in the town of Bilston.
Drinkers at the pub, called Sir Henry Newbolt, were a bit surprised when one of the regular customers entered with his horse in tow, the Birmingham Mail reported. Footage of the bizarre incident was shared online, with bar workers heard yelling at the man to remove his animal.
"There's an 'oss in the pub and it needs to get out," a worker can be heard saying. "Tommy, take your horse out."
Kerry Ashfield, a customer at the bar, told the publication that everyone was shocked to see the horse enter.
"I drink in the pub often. No one could believe it when the man bought his horse in," she said. "It's not something you see happen every day."