Horses Are Being Dumped By the Side of the Road and Left to Die
The United Kingdom is in the midst of an escalating "horse crisis," a leading animal charity has said, as the number of neglected horses taken into their care increased to nearly 1,000 equines last year.
According to the Royal Society for the Prevention of Cruelty to Animals (RSPCA), charities first started highlighting the issue in 2012 but little has changed.
Related: Starving horses eat aluminum off side of house, dead animals removed from Maryland farm
"We've been talking about the horse crisis for several years now, but the truth is the situation is just as severe today as when it started," Christine McNeil, the inspectorate national equine co-ordinator, said in a news release.
"Last year, we took in more horses than we have in any of the past four years, and with our inspectors being called to rescue more and more every week, we are stretched to the limits," she continued.
The charity said that each time a horse is able to leave their care, another quickly takes its place. Many are kept in private stables paid for by the charity.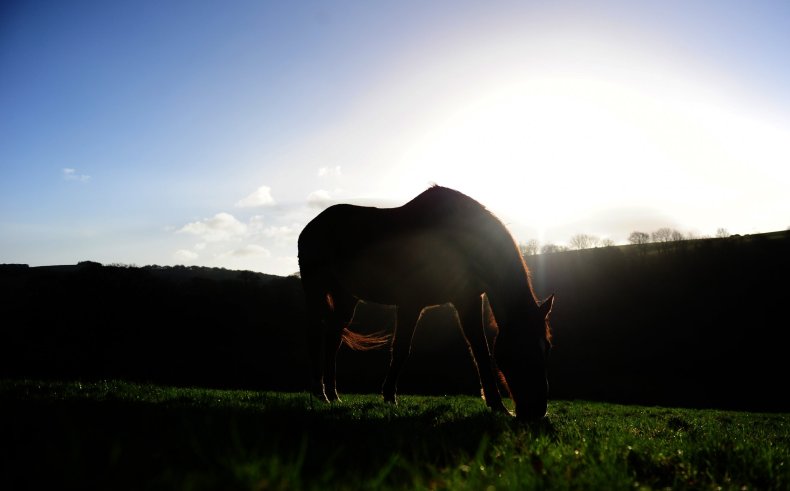 "Up and down England and Wales, horses are being found sick or dumped liked rubbish, dying or dead. Distressingly, this is common and it's a huge issue," McNeil said. "We are constantly receiving calls to our cruelty line—on average 80 per day about horses alone—as well as messages every day on social media from very concerned and upset people asking for our help."
The RSPCA spent over £3 million ($4.2M) caring for the animals, they said, not including veterinary costs. Currently, RSPCA has 928 horses in its care after taking in 980 in 2017.
In one case highlighted by the RSPCA, a horse was abandoned in a field on New Year's Eve and found collapsed in the mud. The charity thinks its owners could have simply not wanted to pay for the horse's care and left it to die.
High costs of care, along with the impact of the recession, have likely been contributing factors to the crisis, the RSPCA said.
Shocking images shared with Newsweek by the charity showed a horse with wounds across its body, horses left dead in fields and on a road. One abandoned body appeared to have an old chair left on top of it and another was left in a small dirt hole.