The cost of health care in the U.S. has once again been thrown into sharp focus after an unnamed individual shared a letter purportedly detailing the charges incurred from a three-day stay in hospital.
A statement appearing to show the costs incurred was posted to Reddit by DrChurch2018 alongside the caption "3 days in the hospital."
It revealed a total bill of $66,781.09. According to the letter, Insurance payments and adjustments covered $66,681.09 with an outstanding balance of $100.
The letter shown in the image appeared with a header of Atlantic Health System, one of the largest non-profit health care networks in New Jersey.
Atlantic Health System employs a total of 18,000 people including more than 4,8000 affiliated physicians. Newsweek has contacted the healthcare provider for comment.
While the veracity of the numbers quoted in the letter has yet to be confirmed, the image has since gone viral on Reddit, racking up over 95,500 upvotes in the space of just two days.
For some, the image brought back painful memories.
"I had extremely invasive leg surgery years ago and my one day in the hospital recovering cost more than the damn surgery," Cats_In_Coats wrote.
"I'm talking over $100,000. I was a teenager and so I didn't understand why my aunt was begging me to just suck it up and prove I could go home. I understood when I saw the bill."
Lilith4507 commented: "I had a medically necessary cosmetic surgery and stayed overnight. Total hospital bill was $47,000. I will be paying on what insurance didn't cover for another 3-4 years."
KKmmem had a similarly tough experience "Collectively I spent about 6 months in the hospital due to an immune deficiency," they said.
"I will never be able to pay my portion after insurance paid. I hate healthcare in the US."
Others, often speaking from other countries where healthcare is free, were critical of such costs.
Kevinnetter wrote: "I'm amazed how Americans can spend twice as much per Capita than most countries and fight to the keep it that way. Same with military spending."
Lexpython responded: "A whole lot of us don't like it, but the government does not represent the people, it represents the lobbyists. Yes I'm pissed. What to do about it?"
Mestevao, a Redditor from Portugal, commented: "It's always so strange to see these absurd bills. I spent a month in the hospital, had surgery, CT scans, and paid nothing. Now I'm on chemotherapy and still pay nothing. It's far from perfect, but the Portuguese universal healthcare system works."
Slartibartfast39 agreed: "Here in the UK, my dad had a heart-attack, emergency stent fitted followed by a triple bypass. We were visiting him in the hospital saying the parking fees were a bit steep. That's all the money we needed to spend."
Mejjr687 was surprised at how little the patient ended up paying themselves, writing: "You must have some pretty decent insurance to only have to pay 100."
Rockabillyjonny, meanwhile, asked: "Is it just me or does it seem like hospitals and health insurance companies just make up huge numbers to make it seem like paying $300+ a month in insurance is worth it?"
Newsweek has contacted DrChurch2018 for comment.
This isn't the first time an exorbitant hospital bill has become the source of ire on social media.
A pregnant woman in the U.S. previously went viral after sharing details of the sky high bill sent to her unborn fetus by one healthcare company.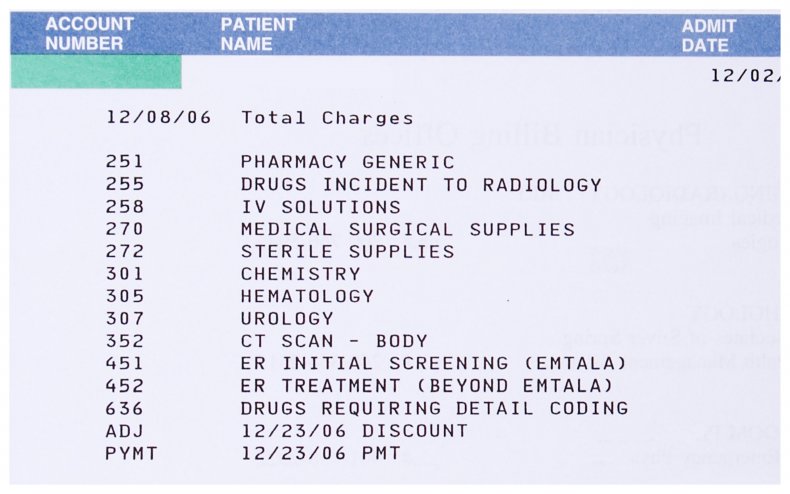 Update 10/20/21, 3:15 a.m. ET: This article was updated with a new image.