Hospital Staff Protest COVID Vaccine Distribution That Prioritizes Administrators Over Frontline Workers
Hospital staff at Stanford Medical Center (SMC) are protesting after initial vaccine distribution plans left out frontline workers in favor of other healthcare officials instead.
On Friday, physicians, nurses and other hospital employees gathered at a large demonstration to protest a management decision that prioritized the immunizations of staff who weren't working directly with COVID-19 patients.
"Residents and fellows were essentially not included in the first round of vaccines despite working 80+ hours per week in the hospital treating COVID-19 patients," Dr. Earth Hasassari, a psychiatric doctor at SMC, tweeted.
Higher ups at SMC had allocated vaccines to some administrators and doctors who are working from home and not in contact with the virus instead of staff who are working on the frontline.
Protesters were seen carrying signs that read "Front line workers need protection" and "Healthcare heroes, back of the line" both inside and in front of the medical facility, according to the San Fransisco Chronicle.
President and CEO of Stanford Health David Entwhistle addressed the angry crowd, telling them "We'll correct it. We know that it's wrong."
Another member of Stanford management, Dr. Larry Katznelson, also told protestors, "The leadership and department heads are stepping back and making sure that none of us get vaccinated until you get vaccinated."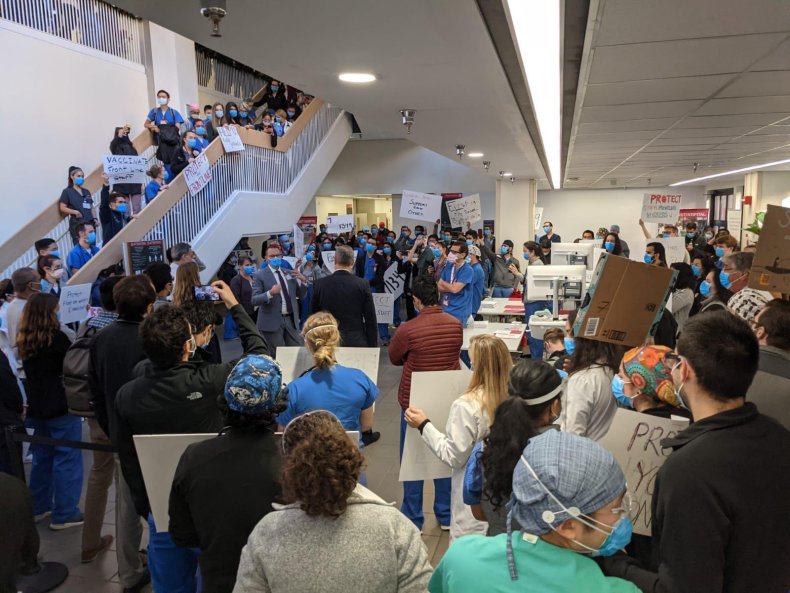 Healthcare workers had previously sent a letter to top hospital officials arguing that only seven residents and fellows were included in SMC's first round of vaccinations, which consists of 5,000 doses set to be administered beginning Friday.
In the letter, protesters said many of these senior faculty that were included in the first round of immunizations had been working at home since the beginning of the coronavirus pandemic "with no in-person patient responsibilities."
"There is still no articulated plan to vaccinate the remaining 1,300+ residents and fellows, including those on the front line directly treating COVID-19 patients," the letter read. "It is important for us to articulate to you that at this time, residents are hurt, disappointed, frustrated, angry, and feel a deep sense of distrust towards the hospital administration given the sacrifices we have been making and the promises that were made to us."
Signors said the error was due to a distribution algorithm created to target older hospital workers first — an error hospital officials learned of on Tuesday, but chose not to revise.
"Disparities in distribution of the vaccine can be seen at a micro-level at Stanford today. I worry that the situation we see at Stanford is a harbinger of population-level inequities of vaccine distribution for our underserved communities," internal medicine resident Christine Santiago said at the protest, according to the Chronicle.
Christine Pelosi, political strategist and daughter of House Speaker Nancy Pelosi also called out SMC over Twitter, writing, "Stanford you really need to fix this! Why are you delaying COVID vaccine doses to your front-facing healthcare workers who are risking their lives to save others?"
In a statement sent to Newsweek, SMC said, "We take complete responsibility for the errors in the execution of our vaccine distribution plan. Our intent was to develop an ethical and equitable process for distribution of the vaccine. We apologize to our entire community, including our residents, fellows, and other frontline care providers, who have performed heroically during our pandemic response. We are immediately revising our plan to better sequence the distribution of the vaccine."
Hospital staff began receiving the first shipment of Pfizer's COVID-19 vaccine this week. Frontline healthcare workers have been prioritized due to their proximity to the virus.
Top government officials, including Vice President Mike Pence, Senate Majority Leader Mitch McConnell and Pelosi also received the first dose of the vaccine on Friday.
President-elect Joe Biden and Vice President-elect Kamala Harris are set to be vaccinated on Monday.
Update 12/18/20 7:44 p.m ET: This story was updated with comments from SMC.