Hospital Warns It May Not Have ICUs for Stroke, Car Crash Victims Amid Surge in Unvaccinated
A hospital in Ohio says it's "being stretched to the breaking point" and concerned about resources for patients with other conditions while COVID-19 hospitalizations rise
In an announcement on Facebook Saturday that it said it "never wanted to make," Southern Ohio Medical Center in Portsmouth stated that its intensive care unit (ICU) was at capacity. The hospital added that it was "implementing alternate care plans for critical patients" and preparing to open a fourth COVID unit in response to the "ongoing surge."
"The level of resources we have been forced to dedicate to this single diagnosis is unsustainable," the announcement read. "Like many hospitals, including others in our region, we are being stretched to the breaking point."
Southern Ohio Medical Center noted that the surge impacts "more than just patients with COVID-19."
"The dramatic increase in COVID hospitalizations means there may not be a bed available for those who wake up with chest pains. Or those who suffer a stroke. Or those involved in a car crash."
"We are doing everything in our power to provide care to our community, but we desperately need your help."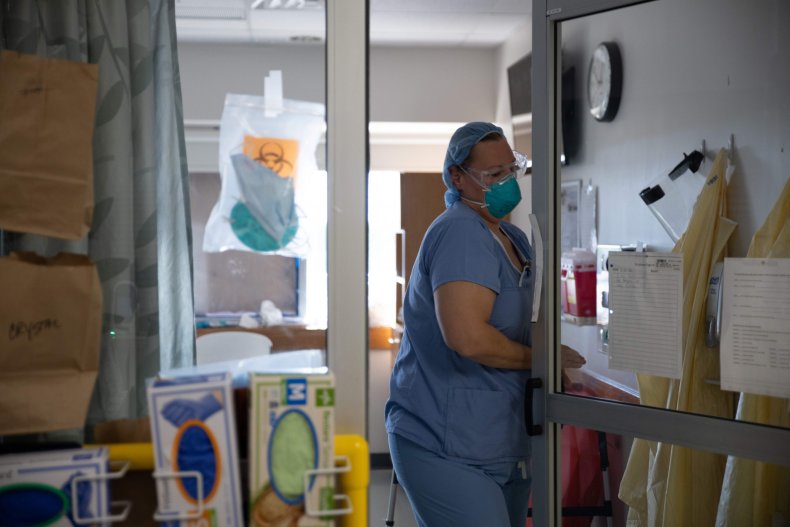 The hospital urged people to get vaccinated, wear mask, and social distance to slow the spread of the virus.
The president of the Ohio Hospital Association, Mike Abrams, said Wednesday that unvaccinated Ohioans "are driving the new surge in COVID-19 hospitalizations, putting dangerous strain on our state's health care infrastructure, especially the health care workforce."
"Hospitals once again are being forced to make tough decisions—such as rescheduling elective procedures, activating patient diversion plans and limiting visitation policies—to alleviate the pressure caused by the growing number of COVID-19 patients," Abrams said in a statement.
On Friday, the hospital association said that 40 percent of Ohio hospitals are reporting staffing strain. It also noted that in the last eight weeks, the state has seen an 857 percent increase in COVID-19 hospitalizations among children under 17, and a 1,161 percent increase in those 80 and over.
As COVID-19 hospitalizations around the U.S. have increased in recent weeks, many hospitals are feeling the pressure. On September 1, a 73-year-old man in Alabama, Ray Martin DeMonia, died of cardiac failure after he was turned away from 43 hospitals whose ICUs were filled with COVID patients.
In DeMonia's obituary, his family pleaded with readers to get the vaccine to free up space in hospitals.
Newsweek has reached out to Southern Ohio Medical Center for additional comment.