Even as states across the U.S. continue to see rising cases of the new coronavirus, or diagnose infections in high volumes despite falling outbreak curves, data shows hospitalizations related to COVID-19 are decreasing in some of the country's hardest hit areas.
States currently reporting the highest COVID-19 incidences per capita are: North Dakota, Mississippi, Iowa, Georgia, Alabama, Kansas and Tennessee, according to a New York Times database. The rate of new cases diagnosed daily followed downward trajectories in Georgia and Tennessee, while Alabama reported a recent spike in confirmed infections after a previously steady decline.
Hospitalizations related to the coronavirus fell in Mississippi, Alabama and Georgia, respectively, since the beginning of August. Even with high per capita case rates, COVID-19 outbreak curves dropped in each state over the same time period. Mississippi's daily cases ticked upward again during the second half of August following a two-week decline. Iowa's positive cases and related hospitalizations spiked this month, and the state recorded a record number of new cases on Wednesday.
Alabama saw a sharp increase in patients hospitalized with COVID-19 infections throughout June and July, alongside a resurgence of cases diagnosed statewide. Hospitalizations peaked during the first week of August, when Alabama's department of health confirmed more than 1,600 patient admissions.
Numbers decreased significantly over the past three weeks, with hospitalizations related to the virus dropping by more than 30 percent. Health officials confirmed less than 1,100 COVID-19 patients were admitted to Alabama hospitals on Wednesday, August 26. About 14,000 state residents were hospitalized for virus symptoms since the pandemic began.
Alabama reported a steep and consistent uptick in new cases of the coronavirus diagnosed per day between late May and mid-July. The incidence of new infections began to taper off after that, although moving averages reported during August continued to substantially exceed Alabama's statistics prior to the outbreak resurgence seen this summer. After a steady decline in daily cases over the past two weeks, health officials confirmed single-day increases that approached the state's July peak on Monday and Wednesday, according to the Times data.
On Thursday, a representative from the Alabama Department of Public Health told Newsweek the latest uptick was partially due to state laboratories processing backlogged diagnostic results.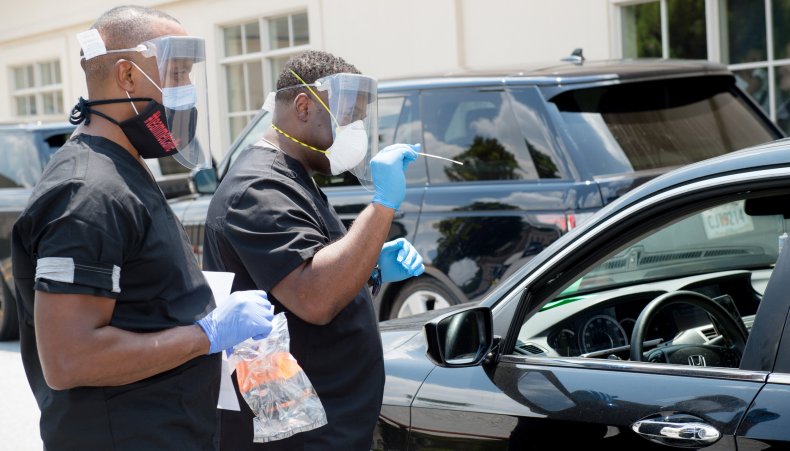 Hospitalizations continued to decrease in California and Texas, the nation's most populated states, each of which reported significant jumps in COVID-19 infections during June and July. Health authorities in both states confirmed downward trending outbreak curves, in addition to declining hospital admissions, over the past month.
Cumulative COVID-19 case counts in California, Texas and Florida are still the country's highest, and each state's single-day case increases remained some of the most substantial at the end of August compared to other states. While Florida's outbreak curve continued to trend downward, the state saw a recent upturn in hospitalizations.
Newsweek reached out to the Florida Department of Health for comments but did not receive a reply in time for publication.
The U.S. is considered the coronavirus' global epicenter, with more than 5.8 total cases confirmed as of Thursday, August 27, according to Johns Hopkins' University's data. Of those who tested positive for COVID-19, almost 180,000 people have passed away nationwide.