Hospitalizations in Louisiana See Highest Spike Since Start of Pandemic as Delta Surges
Hospitalizations in Louisiana climbed Monday in the highest single-day increase of COVID-19 patients since the start of the pandemic.
An increase of 169 hospitalizations was reported since Monday, making it the overall fourth largest single-day increase, and the biggest jump since the first few weeks of the U.S. outbreak, according to Louisiana Governor John Bel Edwards' office.
Only three other days have seen greater hospitalizations: March 25 with 220 hospitalized patients, March 31 with 196 and March 26 with 185 cases hospitalized.
"To see this current rise in COVID-19 cases and hospitalizations is becoming increasingly scary," said Edwards. "We reported nearly 6,800 cases today in addition to the nearly 8,000 that were reported from the weekend. And today, there are close to 1,400 COVID patients hospitalized statewide—approximately 90 percent of whom are unvaccinated."
"As I said recently, this surge is on us, and that means it is up to each of us to do our part to bring it to an end," the governor added.
In addition to the 6,797 new COVID-19 cases reported Tuesday, 20 new deaths were added to the nearly 11,000 Louisianans who have died of the virus. The number of patients on ventilators comprise 9 percent of all hospitalizations at 127 surviving off of machines, according to data from the Louisiana Department of Health.
"COVID is surging in Louisiana, and it is not slowing down," said Dr. Joseph Kanter, state health officer. "As the dangerous and dominant Delta Variant continues to spread and COVID-19 cases and hospitalizations continue to skyrocket, we urge all individuals in Louisiana to protect themselves and their families."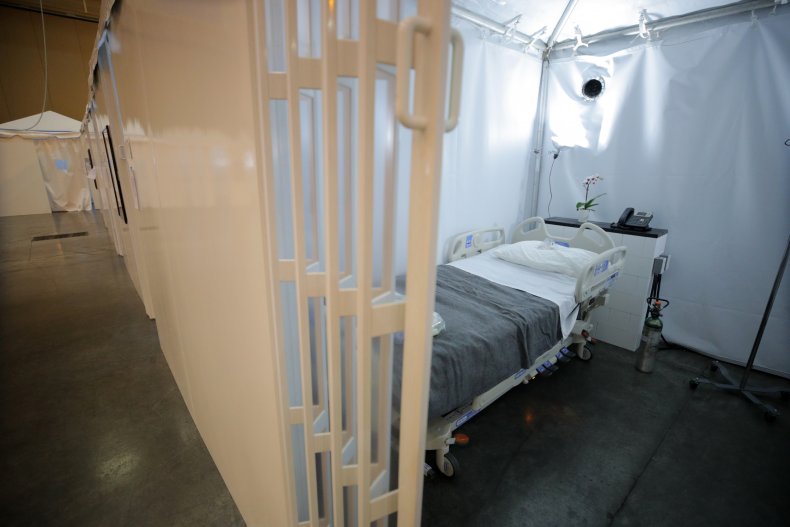 While the governor did not issue a statewide mask mandate, he recommended that everyone, regardless of vaccination status, wear a mask indoors where it is not possible to maintain appropriate social distancing. Public buildings under Edwards' control are mandated to require masks, according to Christina Stephens, a spokesperson for Edwards.
Stephens told Newsweek that the governor and the state health department are reviewing the new guidelines from the Centers for Disease Control and Prevention released on Tuesday.
"The Governor has been a strong advocate for the vaccine and for masking throughout the pandemic and worked to align the state's masking recommendations with the CDC's as much as possible," Stephens said.
Edwards urged the importance of getting vaccinated in a Tuesday press release saying that vaccination is "the best way to put [the pandemic] behind us."
"For anyone asking the question when will this end, the answer is simple: when we decide to do what it takes to end it," Edwards said. "The most impactful tools to make that happen are free and widely available—the three safe and effective vaccines. I am pleading with everyone who is not vaccinated and is of age to make the decision today to get vaccinated."
Louisiana has one of the lowest vaccination rates in the country with only 36.6 percent of the population vaccinated. Only 1.7 million people in the state are fully vaccinated, according to data from the CDC.