Hospitals in 10 States Are at or Nearing Crisis Levels Since Surge in Delta Variant
Surging COVID-19 case numbers across multiple U.S. regions are pushing some hospitals to crisis levels under the strain, prompting the rationing of health care in some situations. As of Thursday, hospitals in 10 states are either enacting crisis care standards or are approaching that point.
With intensive care unit beds filling up to between 90 percent and 100 percent capacity in some places, largely driven by the Delta variant surge, many hospitals are being forced to consider enacting "crisis standards of care," which is considered a last resort system of prioritizing the patients who are most likely to survive in a disaster situation and rationing the dwindling hospital resources available.
The entire state of Idaho has enacted "crisis standards of care" according to an announcement from the Idaho Department of Health and Welfare (DHW) on Thursday.
"The situation is dire," DHW Director Dave Jeppesen said in a statement. "We don't have enough resources to adequately treat the patients in our hospitals, whether you are there for COVID-19 or a heart attack or because of a car accident."
On Tuesday, Providence Alaska Medical Center in Anchorage, the largest hospital in the state, implemented "crisis standards of care" following overloaded ICU and emergency room beds.
"While we are doing our utmost, we are no longer able to provide the standard of care to each and every patient who needs our help," Dr. Kristen Solana Walkinshaw, chief of staff at Providence Alaska Medical Center, wrote Tuesday in an open letter addressed to Alaskans.
People who get sick or injured in states with particularly high case numbers are finding themselves being turned away from hospitals, or having their medical appointments postponed if their issues aren't emergencies, even in places that haven't officially declared crises.
Alabama, Georgia, Tennessee, Mississippi, Louisiana, Kentucky, Texas and Arkansas all have 10 percent or less of their ICU beds available, according to data from the Department of Health and Human Services.
Although only two states have hospitals that have officially enacted crisis standards of care, many others are very close.
"We are right on the edge of entering crisis standards of care. I hope we don't get to that point, but it could very easily happen," Dr. Bruce Siegel, president of America's Essential Hospitals, a group representing hundreds of medical centers, told NPR. "We're in a very dangerous place, given the level of our surge."
Washington state has been struggling with the decision to implement crisis procedures or not as it accepts a surge of patients from Idaho.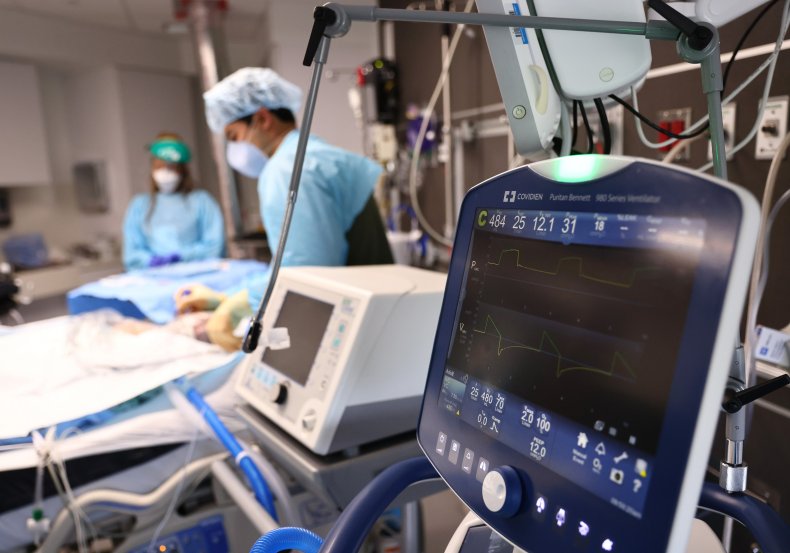 Newsweek reached out to a spokesperson for the CDC for comment.