Hospitals in 25 U.S. States Face Staffing Shortages Amid Surging COVID Cases, Study Shows
Hospitals in at least 25 states across the U.S. are facing staff shortages amid increasing COVID-19 case counts, according to a new study.
The survey, which was published by STAT, used data from the American Hospital Association as well as a tally conducted by the news site.
Nancy Foster, vice president of quality and patient safety at the American Hospital Association told STAT that over the past two weeks, a dozen hospital leaders have said that they are facing staff shortages in Texas, North Dakota, South Dakota, Minnesota, Wisconsin and Illinois.
Additionally, health care providers in Kansas, Oklahoma, Arkansas, Ohio, Missouri, Michigan and Utah—as well as local news outlets in New Mexico, Nebraska, Colorado, Wyoming, Tennessee, Georgia, Alabama, Indiana, Montana, California, Rhode Island and South Carolina—have echoed similar concerns.
John Henderson, chief executive of the Texas Organization of Rural & Community Hospitals (TORCH), told STAT: "Care is about more than a room with a hospital bed. It's about medical professionals taking care of patients." He added that "if you don't have the staff to do that, people are going to die."
Similarly, a report from The Atlantic in early November found 35 percent of hospitals in eight states expecting staff shortages. The eight states included Arkansas, Missouri, North Dakota, New Mexico, Oklahoma, South Carolina, Virginia and Wisconsin.
Staff shortages in hospitals have been caused mainly by doctors and nurses contracting the novel virus while working, and are forced to stay home from work and quarantine. But as COVID-19 cases have continued to increase across the U.S., so has the demand for hospitalizations.
The report from STAT comes as cases of the novel virus, as well as deaths and hospitalizations, have continued to increase.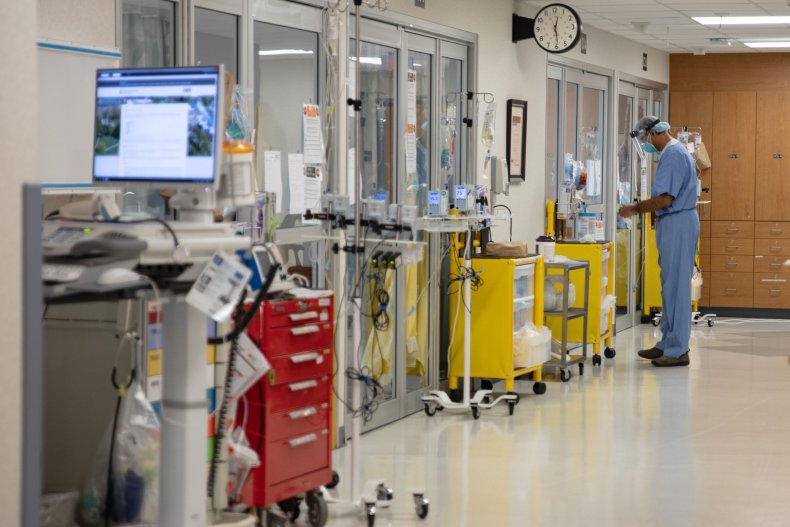 According to data from the COVID Tracking Project, there were more than 167,000 new cases reported in the U.S. on Tuesday, as well as at least 2,029 deaths, the highest single-day death toll since May. Additionally, there were at least 88,080 current patients hospitalized with COVID-19 on that same day.
The continued increase in cases ahead of Thanksgiving has prompted medical professionals to warn Americans of what to expect in the coming weeks.
During an appearance on ABC's Good Morning America on Wednesday, Dr. Anthony Fauci, the nation's leading infectious disease expert, said: "What we don't want to see is yet another surge superposed upon the (current) surge ... which we'll realize three (to) three-and-a-half weeks from now."
Dr. Joseph Varon, chief of staff at the United Memorial Medical Center in Houston, echoed Fauci's comments while speaking to CNN on Wednesday,
"Unfortunately, my concerns for the six to 12 weeks is that if we don't do right, America is going to see the darkest days in modern American medical history," he said.
Newsweek reached out to the Department of Health and Human Services for comment, but did not receive a response in time for publication.