Nationwide hospital staff shortages are leaving health care facilities less equipped to care for influxes of COVID-19 patients, and hospitals have lost about 29,000 employees in 2021.
Since the outset of the pandemic, one goal of "flattening the curve" has been to prevent health care systems from being overwhelmed by increased hospitalizations. However, each wave of COVID-19 cases has pushed hospitals to a breaking point, and the added strain on health care workers, particularly nurses, has caused many to rethink their current job.
The pandemic has exacerbated a shortage of nurses, and as resources were deployed to the hardest-hit areas, some nurses saw a financial opportunity. Travel nurses, who move around the country on different assignments, can make significantly more money than those who work at a single hospital.
Still, with less than a month left in the year, hospitals have lost fewer employees in the second year of the pandemic than in the first. In December 2020, about 5,174,800 people were employed by hospitals, according to the U.S. Bureau of Labor Statistics, a loss of about 47,000 from December 2019. By contrast, hospital employees had decreased to 5,145,900 last month, a loss of 28,900.
As frustrations with hospitals over financial compensation have mounted, health care workers are becoming burned out over the long hours and stressful caseloads. Many nurses have left their hospital jobs to become a travel nurse.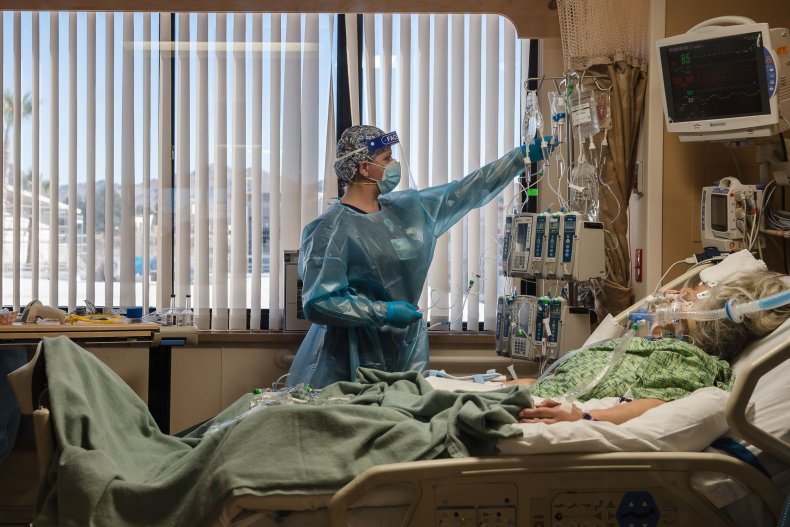 In 2020, there was a 35 percent increase in travel nurses over the previous year, and that number is expected to grow an additional 40 percent in 2021, according to The Washington Post.
Hospitals have accused companies that fill travel nursing positions of engaging in "anti-competitive pricing." In February, the American Hospital Association wrote in a letter to Federal Trade Commission acting Chairwoman Rebecca Slaughter that companies were "exploiting" the pandemic by charging "desperate hospitals" enormous rates for travel nurses.
"While the nurse staffing agency industry too often blames hospitals for driving up the rates, the fact is that hospitals are in dire need of nursing staff to care for their patients and have little choice but to pay the rates demanded and refrain from complaining publicly for fear of being cut off from the supply of travel nurses by staffing agencies that set the prices," the health care industry trade group wrote.
An October survey from Morning Consult found that 1 in 5 health care workers had quit a job since the start of the pandemic. Another 12 percent were laid off or lost their job. Nearly 30 percent who stayed in their jobs considered leaving the position, with 19 percent mulling the possibility of leaving health care altogether.
Last Thursday, Kentucky Governor Andy Beshear declared the state's nursing shortage an emergency, calling it a "dire" situation. His emergency order allows for nursing schools to enroll more students and lets nurses licensed in other states work in Kentucky, with the goal being to add 16,000 nurses by 2024. However, some don't think it'll be enough to solve the problem because of the competitive salaries for traveling nurses.
"If they can make a lot of money in a very short period of time, do we begrudge them for taking that opportunity to do that?" Delanor Manson, CEO of the Kentucky Nurses Association told Bowling Green TV station WBKO. "The answer is no. It does leave their communities in dire need of support though."
Manson wants health care facilities to manage shifts in a way that gives nurses a better work-life balance in order to recruit more students to become nurses. The problem, though, is that instituting the change requires "a lot more faculty."
Along with potentially better compensation for travel nurses in a turbulent time, many health care workers have retired early or changed professions. Some health care workers have complained about feeling unsupported by their employers and taken advantage of while under immense pressure and emotional strain.
When hospitals lack resources to care for influxes in patients, it can lead to worse clinical outcomes for patients. Panagis Galiatsatos, a pulmonary physician and professor at Johns Hopkins University, previously told Newsweek the one "worst feeling" is knowing that there isn't enough staff.
"Patients will die without enough staff. That's the kicker. That's the one resource I don't have the ability to implement," he said.