Hospitals in Japan's second largest city of Osaka are on the brink of collapse due to the latest COVID-19 wave that have left health systems scrambling to find enough beds, ventilators and staff to meet the needs of an influx of patients.
"Simply put, this is a collapse of the medical system," Kindai University Hospital Director Yuji Tohda told Reuters.
"The highly-infectious British variant and slipping alertness have led to this explosive growth in the number of patients," Tohda said.
Although Japan has largely avoided the massive coronavirus surges that other countries have faced, a fourth pandemic wave has overwhelmed Osaka, which has seen a fivefold jump in positive cases over recent weeks, compared to figures from three months ago. The city's coronavirus dashboard also shows that hospital beds reserved for severe symptom patients are at 83% capacity as of Monday.
The British variant of the coronavirus has presented a new challenge for Osaka's hospitals with the highly-transmissible strain making even young people sick very quickly.
"I believe that until now many young people thought they were invincible," Osaka Medical and Pharmaceutical University Hospital (OMPUH) Director Toshiaki Minami told Reuters. "But this can't be the case this time around. Everyone is equally bearing the risk."
Satskui Nakayama, OMPUH's nursing department head, and Yasunori Komatsu, who leads a union of regional employees, said that many frontline workers have been exhausted by the coronavirus pandemic, leaving the field just as Osaka's COVID metrics continue to rise.
"I've got some intensive care unit (ICU) staff saying they have reached a breaking point," Nakayama said. "I need to think of personnel change to bring in people from other hospital wings."
"Some of them are racking up 100, 150, 200 hours of overtime, and that has been going on for a year now... when on duty, they sometimes go home at one or two in the morning, and go to bed only to be awakened by a phone call at three or four," Komatsu added.
Minami said that it is not only doctors who are trying to keep up with the rise in hospitalizations, but also drug suppliers who are running low on crucial resources that are administered to intubated patients.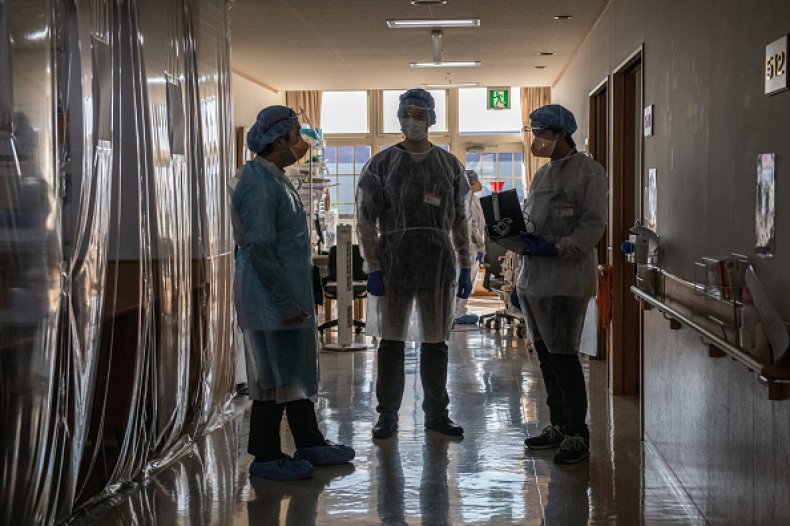 Health officials are now worried that Tokyo's upcoming Olympic Games, which are set to begin July 23 after being postponed last year, will only further exasperate the dire situation.
OMPUH's head of emergency medicine, Akira Takasu, stressed that the event could bring in newer, more severe strains of the virus, including one that was first found in India and has been declared more contagious.
"In the Olympics, 70,000 or 80,000 athletes and people will come to this country from around the world. This may be a trigger for another disaster in the summer," Takasu said.
Polls have also shown that the vast majority of Japanese say the Games should be cancelled or postponed for a second time.
With pressure to call off the Olympics, officials have responded by ramping up vaccinations, setting goals of 5,000 jabs in Tokyo and 2,5000 in Osaka every day. Prime Minister Yoshihide Suga said he hopes that all residents over the age of 65 will all have completed their vaccinations by the end of July.
Japan's vaccination rollout has lagged significantly behind other developed nations, with only about 1.9 percent of its population being fully vaccinated as of Monday.
Newsweek, in partnership with NewsGuard, is dedicated to providing accurate and verifiable vaccine and health information. With NewsGuard's HealthGuard browser extension, users can verify if a website is a trustworthy source of health information. Visit the Newsweek VaxFacts website to learn more and to download the HealthGuard browser extension.