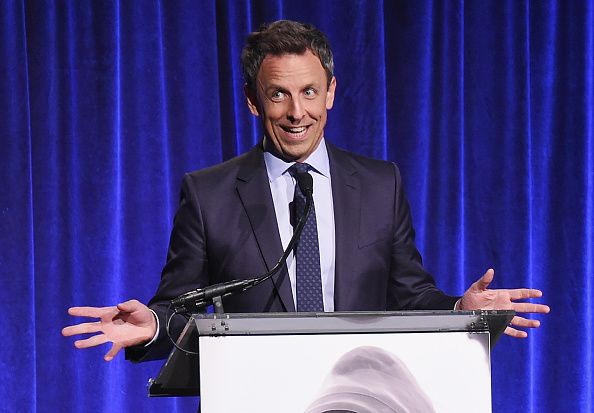 If you tune into the Golden Globes on Sunday expecting a monologue filled with sick Trump burns, á la Jimmy Fallon's opening remarks last year, don't. This year's host, Seth Meyers, doesn't have time to waste on the President.
That was the message from the Late Night host when he spoke to The Hollywood Reporter on Thursday about his upcoming Globes emcee job. While happy to take jabs at Donald Trump on his own show, Meyers said he wants to leave Trump out of this year's ceremony.
But, of course, "I'm reserving the right to change my mind," Meyers added. The late night host has worked in comedy news long enough to know a last-minute tweet could flip his script.
Barring any (new) nuclear threats, though, the 44-year-old comedian said he has bigger and better things to mock. "Especially this year with everything that's happened in Hollywood, it seems far more important to have the focus there as opposed to anything that's happening in Washington," he said, referring to Hollywood's ongoing conversation regarding sexual harassment and assault, stemming from the October allegations against Harvey Weinstein.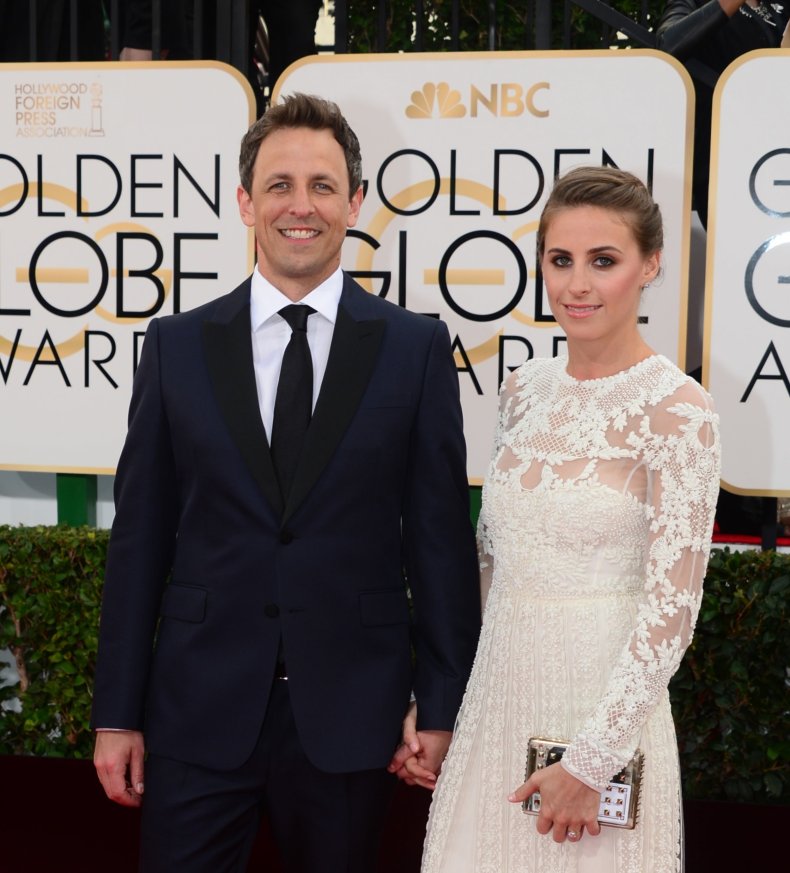 "My first instinct was, 'Oh, this is the worst year to [host],'" he admitted. "And then I had conversations with my wife and with the women on this staff, and we all agreed it's an opportunity to be able to say some things that you wouldn't be able to say in previous years."
Meyers explained that he relied heavily on his wife, human rights attorney Alexi Ashe, to help him craft jokes around a topic that doesn't always lend itself to joking.(Though Meyers has handled the issue fairly well on his late night show.)
"I don't know if I would've wanted to do this without her counsel in talking about it," he said, "and she's a smart enough woman to know that I probably shouldn't have done it without her help."
So, a Golden Globes without any Trump? That would be a drastic change from last year, which featured Meryl Streep's impassioned presidential take-down in her acceptance speech.
For his part, Trump supposedly wants "Hollywood elite" like Streep to leave him alone. Whether they do or not—and how he responds either way—will certainly be documented on the President's Twitter timeline Sunday.
"If he tweets that he's disappointed we didn't bring him up, I'd be thrilled," said Meyers. "That would fly in the face of what currently he believes is the problem, which is that we won't stop talking about him."