Growing up in the U.K, I was one of those kids who liked to read science fiction author Isaac Asimov under my blanket at night using a torch. I have always been drawn to visions of humanity and technology in the future and living on the Isle of Wight I was able to meet people who had sailed around the world. It really ignited a desire to explore.
Through work in research, I was able to spend more than two years living in Biosphere 2, a project testing a closed ecological system, in the early 90s. My husband Taber McCallum and I had met on a research boat some years before and we both took part in this Biosphere 2 project. Inside it, you could see the edges of our world, which is exactly the experience astronauts have when they see earth from space.
Taber and I actually started thinking about taking people into space during that project, but at that stage we thought we would develop technologies that would aid commercial space travel. We then created a company called Paragon Space Development Corporation and developed tech that is now used on spacecraft across America and on the International Space Station.
I will never forget the day when Taber walked into my office at Paragon and said: "What do you think about taking people to space in a pressurized capsule, under a giant balloon?" I didn't even have to think about it. It was so obvious that this was a way to take people to space in an incredibly accessible way.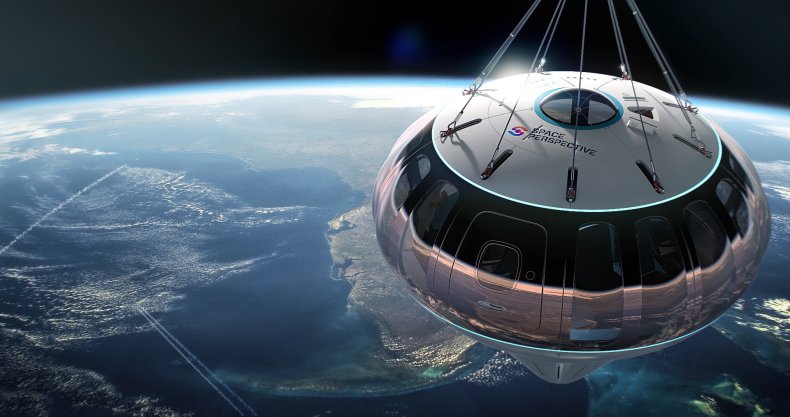 As we developed the idea and started our company, Space Perspective, we knew we wanted our capsule to have 360 degree panoramic views, but it also had to be a safe way into space. Our space balloons have been safely flown carrying a certain mass already, which told us how big our capsule could be and that it could fit eight to nine people.
Our first test flight was in June 2021, we called it Neptune One because it was the first test of a rigorous regime we have mapped out. We launched space balloons carrying an unpressurised capsule and travelled up to 108,000 feet, which is a little above where we'll be taking people in 2024. The capsule stayed up there for a few hours, travelled across the peninsula of Florida and then descended and splashed down into the Gulf of Mexico.
When it flies, Spaceship Neptune will reach a height of 100,000 feet, which is about 20 miles above earth. Earth's atmosphere stretches for hundreds of miles into space, and while there are various definitions of where space begins, our spaceship flies above 99 percent of the atmosphere and into the stratosphere; the edge of space.
The actual flight people will take on our capsule named Spaceship Neptune will begin very early in the morning, when it's still dark. Passengers will be offered a beverage of their choice when they step into the capsule, they will take a seat in a comfortable chair and will gently lift off the ground. Space balloon launches are very graceful, so it will be incredibly smooth.
The capsule will travel at 12 miles an hour and people will have the use of WiFi, a bar and a bathroom on board. It'll take around two hours to get above 99 percent of the atmosphere, and the most incredible starscape will be visible if it's still dark.
The sun will then start to rise up over the rim of the earth and passengers will be able to see the curvature of earth and the iconic thin blue line of our atmosphere. Astronaut Jeff Hoffman is a technical advisor for us and he has often talked about how you have to be prepared for a sunrise in space, because it's so incredible. Then, after a few hours in space, the capsule will begin its gentle descent back down to earth, which takes a couple of hours and ends by splashing down in the ocean.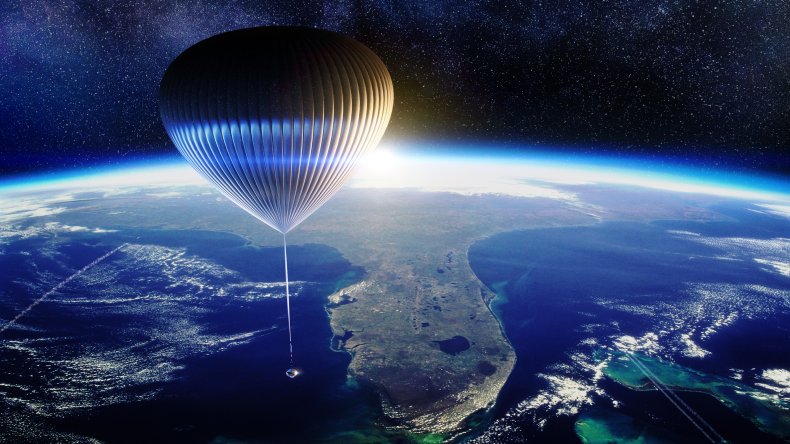 When we put tickets on sale publicly in June 2021 we got an enormous response. I believe we're the only company in the world that allows people to buy tickets to space online. Tickets for a trip in our space capsule are $125,000 each and we have sold around 400 now. We're actually sold out for our first space flights from Florida in 2024 and are now selling tickets for flights in 2025 and beyond.
Some of those who have bought tickets are the kind of people who want to be first in space, and they have bought multiple tickets. We also have people who want to take their entire family and have gathered for a trip. Then, we have people who have always wanted to go to space and aren't of the wealth bracket you might imagine but have saved up. A lot of people have talked about proposing and having milestone birthday parties during their trips with us.
People have inquired about having weddings on Spaceship Neptune and we will certainly be hosting weddings. The capsule is designed to be spacious with an area in the middle you can walk around in and the flight is long enough to allow for really awesome events, so I can imagine having a wedding ceremony right in the middle of the capsule and live streaming it to people on earth. We describe trips on Spaceship Neptune as a "shirtsleeve" environment, because passengers don't have to wear a space suit and there is no rigorous training needed and no high G-forces to handle! So a wedding dress would certainly be an option.
We've had people asking all sorts of questions about weddings on our spacecraft. Everything from whether people will need to bring their own wedding photographer to whether they can decorate the capsule to create their own bespoke "space wedding." Obviously there are weight restrictions, but people will absolutely be able to decorate the capsules to their tastes.
We also want to have concerts and take artists up in the capsule. Some people want to make the experience incredibly rock and roll, so they've asked if they can take their favorite rock star into space. Of course, we say yes. Others are buying up the whole capsule for a flight and are going to use it to raise money for their chosen charity, which is amazing. We do have some household names who have booked tickets.
Our plan is to expand to other locations around the world, and although we haven't nailed down which countries we'll go to yet, we want our customers to have a variety of experiences. Imagine seeing the northern lights from the edge of space or being able to see your own home from our capsule.
It is a dream come true to be doing this work. I am very fortunate that I get to live my purpose, which is to take as many people to space as possible. We are helping people to have the experience that astronauts talk about—seeing our beautiful earth from space.
Jane Poynter is the founder and co-CEO of Space Perspective. You can find out more about Space Perspective flights here and follow on Instagram @thespaceperspective.
All views expressed in this article are the author's own.
As told to Jenny Haward.