Hosts of Infamous Hot Dog Eating Contests Propose Contest for Mayoral Candidates
New York City's Board of Elections is under major scrutiny—but Major League Eating might be able to help.
The NYC Board of Elections (BOE) announced Tuesday that it had made an error when tabulating the ranked-choice results for the Democratic mayoral race, accidentally including approximately 135,000 test ballots that hadn't been removed from the system's software. In an attempt to find a solution, and perhaps provide a little humor, Major League Eating (MLE) proposed the board sign off on a hot dog eating contest to determine a winner.
Major League Eating is the body that oversees all professional eating contests. According to its website, the organization hosts approximately 70 events a year, including the iconic Nathan's Famous Fourth of July contest on Coney Island. Wanting to help the board of elections through a difficult time, the MLE wrote a letter to the BOE promising to "swiftly resolve" the election's outcome.
"This contest would replace the current vote counting effort, and the winners would become mayoral candidates in New York City's general election," reads the letter obtained by Newsweek.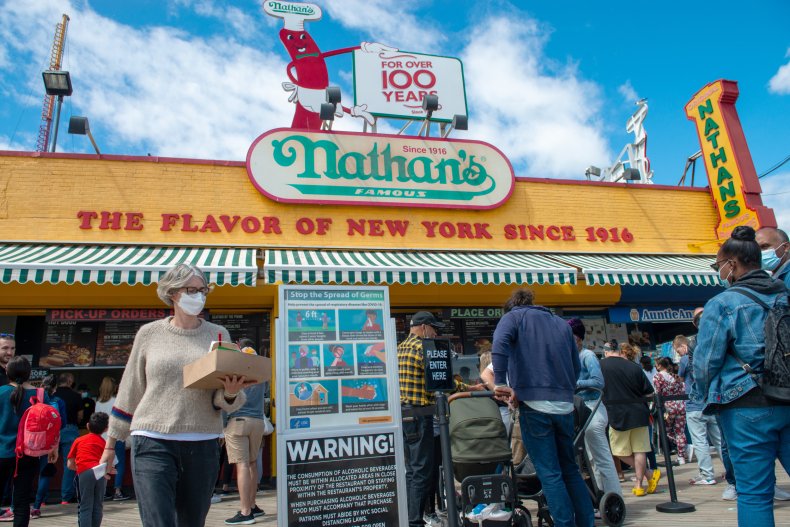 The Board of Elections first shared the "discrepancy" with the public via Twitter on Tuesday evening, and later apologized via a notes app screenshot.
"Board staff have removed all test ballot images from the system and will upload election night results, cross-referencing against election night reporting software for verification," the BOE said in their apology. "The board apologizes for the error and has taken immediate measures to ensure the most accurate up to date results are reported."
With a winner yet to be determined in the mayoral race, MLE thinks a hot dog eating contest could speed up the process.
"We view this as a patriotic service to New York City that will bring certainty to a laborious and potentially fraught vote-counting process," MLE chair George Shea said in the letter to the BOE. "MLE's integrity is unquestioned, and the organization has deep experience adjudicating complex and difficult contests."
Major League Eating also suggested that the winner face off against the Republican nominee, Curtis Sliwa, in a November general election hot dog eating contest. The winner of that competition would allegedly become the city's next mayor.
"This, we believe, would relieve the BOE of the burden of the general election in November," Shea told Newsweek.
Shea is confident that New Yorkers would love for candidates to participate in a hot dog eating contest instead of an election. He told Newsweek: "I am certain that New York City would respect the results of a hot dog eating contest in lieu of ranked-choice voting. There is no better way to determine the mayor of New York City than to find the candidate who most loves Nathan's."
"Also," he added, "it shows respect for a local tradition and it also demonstrates American exceptionalism."