Man Left Clinging to Side of Hot-air Balloon After It Takes Off By Mistake
A hot-air balloon crew member in China was left clinging to the side of the basket as the craft was accidentally blown away by a gust of wind at an amusement park on Wednesday.
A dramatic video captured by a bystander showed onlookers gasping as the craft suddenly became airborne while being filled on a field at the Bailucang Scenic Area.
The balloon, which also carried another staff member sitting on the edge of the basket, was landed shortly after by its pilot, who "reacted quickly, remained calm and displayed expert flying skills under extraordinary circumstances," an online statement by the park read.
The tourist attraction in Xi'an, capital of China's north-western province of Shaanxi, was hosting its annual Hot Air Balloon Carnival when the incident took place.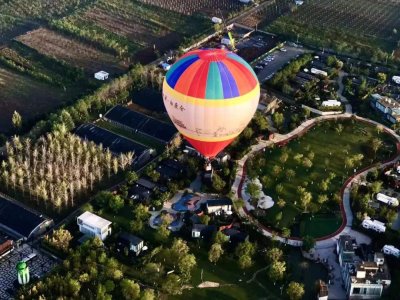 The park statement, which was released on China's Twitter-like microblogging service Weibo, said staff members were preparing to fly the hot-air balloon "under suitable wind conditions" when the craft was swept up off the ground.
None of its staff were injured and no equipment was damaged during the accident, the statement added.
Hot-air balloons are only allowed to fly in winds slower than 6 meters per second (19.6 feet per second), and when visibility is above 1.5 kilometers (0.93 miles), a spokesperson told Guangzhou's Southern Metropolis Daily.
The amusement park's media office had not responded to Newsweek's request for comment at the time of publication.
The incident happened just days after a university student in Henan Province, in central China, fell to his death from the side of an airborne hot-air balloon on Friday.
He had been working part-time at a balloon club as a guide and member of the ground staff, receiving just one hour of training before the tragedy happened, Sichuan-based Chengdu Business Daily reported.
Tourism surge
China's eight-day "Golden Week" holidays—this year merging both the Mid-Autumn Festival and National Day breaks—ended on Thursday.
The Ministry of Culture and Tourism said scenic areas and parks welcomed 420 million domestic visitors in the first four days of the holiday alone.
Meanwhile, tourism officials in Hubei Province, of which Wuhan is the capital, estimated visitor numbers in excess of 48 million during the week-long break, according to a report by Chinese state media outlet Xinhua.