Hot Car Death: 22-Month-Old Girl Dies After Being Left in Minivan in New Jersey
A 22-month-old girl was found dead in minivan parked near a commuter rail station in Northern New Jersey.
Authorities believe the toddler may have succumbed to heatstroke, with temperatures reaching more than 82 degrees on Friday afternoon.
The van was parked by the PATCO High Speed Line in Lindenwold, a suburb about 15 miles from Philadelphia. According to Camden County Prosecutor's Office, the girl was still in her car seat when first responders arrived. She was pronounced dead on the scene but it's unclear how long she had been left in the car, or whether it was by accident or intentionally.
WPVI Channel 6 reports the child's mother was later on the scene but prosecutors said no charges had been filed yet, as "the incident is in the very early stages of its investigation,"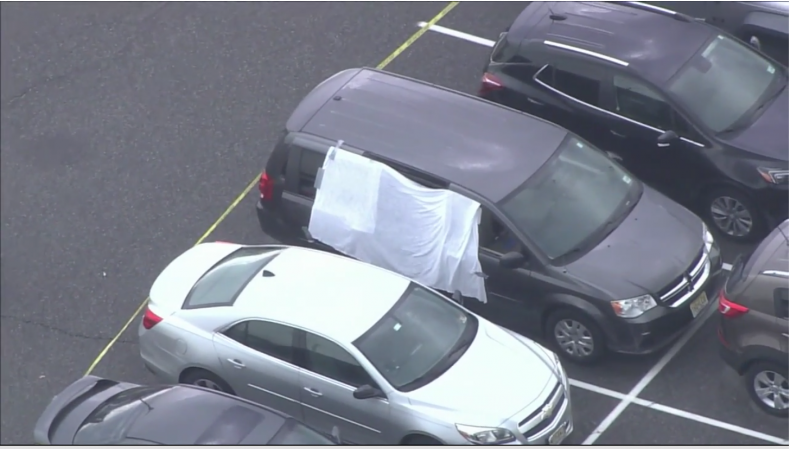 According to the National Safety Council, roughly 38 children a year die from vehicular heatstroke. More than half after being forgotten in a car, and another quarter accidentally locked themselves in a car or trunk. On rare occasions (roughly 18.6 percent), a child will die after intentionally being left in a car.
Last year was the deadliest year for "hot car" deaths in two decades, NoHeatStroke.org, a site run by San Jose University's Department of Meteorology & Climate Science: There were 52 child fatalities, between the ages of 7 weeks and 5 years old.
Already in 2019, there have been 32 deaths.
In July A New York City father made national headlines after forgetting his 1-year-old twins in a hot car for hours, believing he had dropped them at daycare. When he returned, they were dead. Coroners examining the bodies of Luna and Phoenix Rodriguez found they had an internal temperature of 108 degrees.
"I blanked out," Juan Rodriguez, 39, told police. "My babies are dead. I killed my babies."
Rodriguez, a social worker and Iraq war veteran, has pleaded not guilty to two counts each of manslaughter, criminally negligent homicide and endangering the welfare of a child.
On August 6, a 13-year-old with special needs perished after being left in a hot car in South Carolina for more than two hours. The Colleton County Sheriff's Department arrested two people, including one woman who works for the Colleton County School District.
Just last week, a 2-year-old in Lawrence, Kansas, was found dead in a hot car. The temperatures that night had reached 88 degrees Fahrenheit.
Dévonté Turner had been left in the care of relatives, according to his mother, Kristina Turner. "There is not going to be a moment that won't go by that I won't remember my son or that I won't look over and think that he should be here," Kristina told KMBC.
"They depend on you, and if nobody is making sure that they are OK, most of them can't fight for themselves... They can't get out of a car. They can't unstrap themselves from a car seat," she continued. "My biggest thing is I don't want to see this happen to anybody else's kids."
In all, more than 800 children died from pediatric vehicular heatstroke between 2018 and 2019.
Children are at the greatest risk, the NSC reports, because their bodies heat up much faster than adults and they often cannot free themselves from the vehicle. The NSC suggests putting something in the backseat, like a purse or a phone, hat will force you to look before leaving the car.
"This is my absolute worst nightmare. Everything I do reminds me of my sweet, intelligent, beautiful babies and I am still in disbelief. Though I am hurting more than I ever imagined possible, I still love my husband," Marissa Rodriguez said.
"He is a good person and great father and I know he would've never done anything to hurt our children intentionally. I will never get over this loss and I know he will never forgive himself for this mistake. This was a horrific accident, and I need him by my side to go through this together," she continued.
"Luna and Phoenix will always live in our hearts and memories and we are working hard to come to terms with what has happened. We need to grieve, be strong, and be present for our other children. We ask that you respect our privacy during this most difficult time," she concluded.
Hot Car Death: 22-Month-Old Girl Dies After Being Left in Minivan in New Jersey | News