Hot Car Death: California K-9 Dog Dies After Being Left in Overheated Police Car
A K-9 dog in Southern California died in a police car after becoming overheated.
Registered with the Long Beach Police Department, "Ozzy" was with his assigned officer in their department issued K-9 vehicle. Both Ozzy and his handler were off-duty during the incident, which authorities are calling an accident.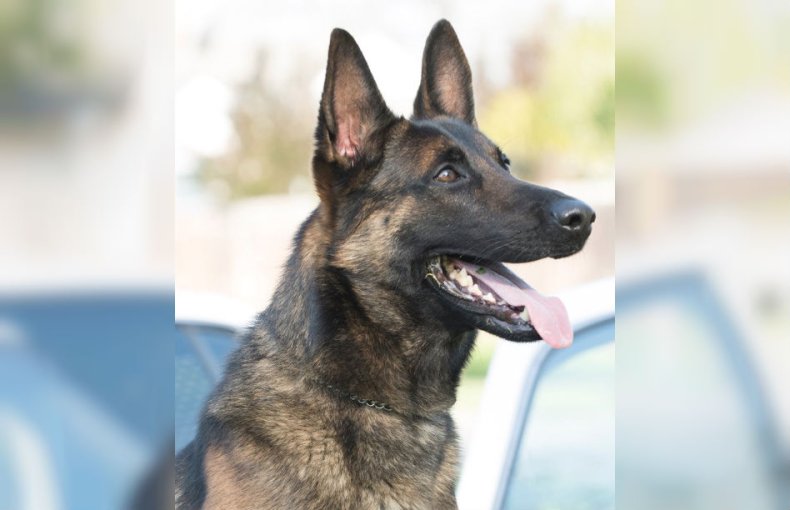 "We believe this was an accident and we are taking all the necessary steps to avoid this from happening in the future."
The Long Beach Police Department said in a tweet that it was "extremely saddened to announce the death of K-9 Ozzy."
K-9 cars have fail-safe Heat System Controllers that are supposed to send out alerts, the LBPD reported. Investigators believes the alert system was not working at the time.
"We ask that you respect the handler and his family, The department said. "Our K-9s are an indispensable part of our department and we will continue to view them as our partners. Heat System Controller prior to every shift and will continue to do so as part of their daily routine."
A dog or cat's temperature should never go above 104 degrees, according the SPCA, which advises against ever leaving a pet in a parked car—not even with the windows cracked or the air conditioner running.
On an 85-degree day, the temperature inside a car can reach 102 degrees in just ten minutes. After a half hour, it can soar to 120 degrees.
Signs of heatstroke include glazed eyes, rapid heartbeat, difficulty breathing or heavy panting, excessive thirst, lethargy, lack of coordination, lots of saliva, vomiting, a tongue that is deep red, seizures and unconsciousness.
As with humans, pets that are very old, very young, overweight or that have coronary or respiratory diseases are at high risk for heatstroke. Animals with short muzzles, like Persian cats or bulldogs, are also at higher risk for heatstroke, as they have more trouble breathing in extreme heat.
"Hot car" syndrome has increasingly become a problem for young children, too. According to the National Safety Council, roughly 38 children a year die from vehicular heatstroke. More than half die after being forgotten in a car, and another quarter accidentally locked themselves in a car or trunk.
According to NoHeatStroke.org, 2018 was the deadliest year for hot-car deaths in two decades, with 52 child fatalities between the ages of 7 weeks and 5 years old. There have already been 32 deaths in 2019.
Earlier this month, a 2-year-old in Lawrence, Kansas, was found dead in a hot car. The temperatures that night had reached 88 degrees Fahrenheit.
In July a New York City father made national headlines after forgetting his 1-year-old twins in a hot car for hours, believing he had dropped them at daycare. When he returned, they were already dead.