Florida Police Department Probing Alleged Anti-Semitism by One of Its 'Hot Cops'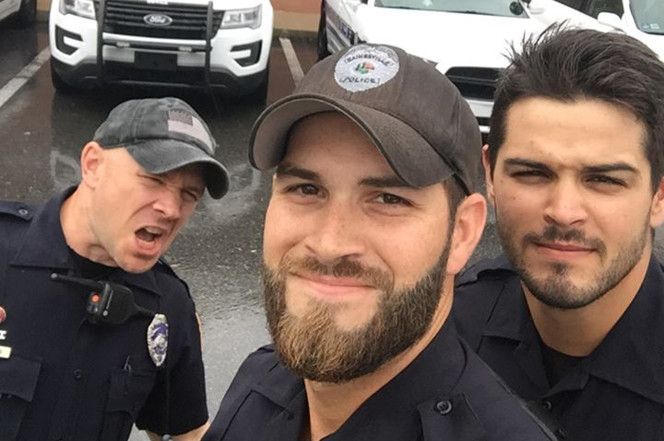 A Florida police department is investigating an officer who posted anti-Semitic remarks on his Facebook page that were unearthed after his superiors commended the hunky cop in an official post.
The Gainesville Police Department had lauded Officer Michael Gordon Hamill and two colleagues in a post on its Facebook page this week for helping the community after Hurricane Irma.
The photo went viral on social media due to the cops' good looks.
The positive attention was short-lived. Someone located Hamill's personal Facebook page, which was filled with anti-Semitic remarks that predated him joining the Gainesville force in 2016.
"Who knew that reading Jewish jokes before I go to bed would not only make me feel better about myself, but also help me sleep better as well," Hamill wrote in 2013. "Here is one for everybody, 'What's the difference between boy scouts and jews?' Anybody know? Well it is because 'Boy scouts come back from their camps.'"
In a second Facebook post two years earlier, Hamill ranted about people who abuse government resources and said they should be dealt with "the Hitler way."
"Stupid people annoy me. Put them in an oven and deal with them the Hitler way. Haha," he wrote.
Screenshots of the posts were sent to the Gainesville Sun, which prompted local authorities to investigate.
Hamill's Facebook account seems to be deleted, but criticism of the officer continue to fill social media.
"How can anyone so despicably racist remain employed in any branch of public service?" wrote Twitter user Myles Leach.
"You have no business training to be a police officer, you are a clear and present danger to the community!!" added someone on Facebook.
Others were shocked and heartbroken that one of the "hot cops" made the racist remarks.
"OMG...of course it has to be the cute one how could he think that "joke" is funny?" said Twitter user @NurseBotez.
Florida Police Department Probing Alleged Anti-Semitism by One of Its 'Hot Cops' | U.S.