Hot Topics for Sunday's Democratic Debate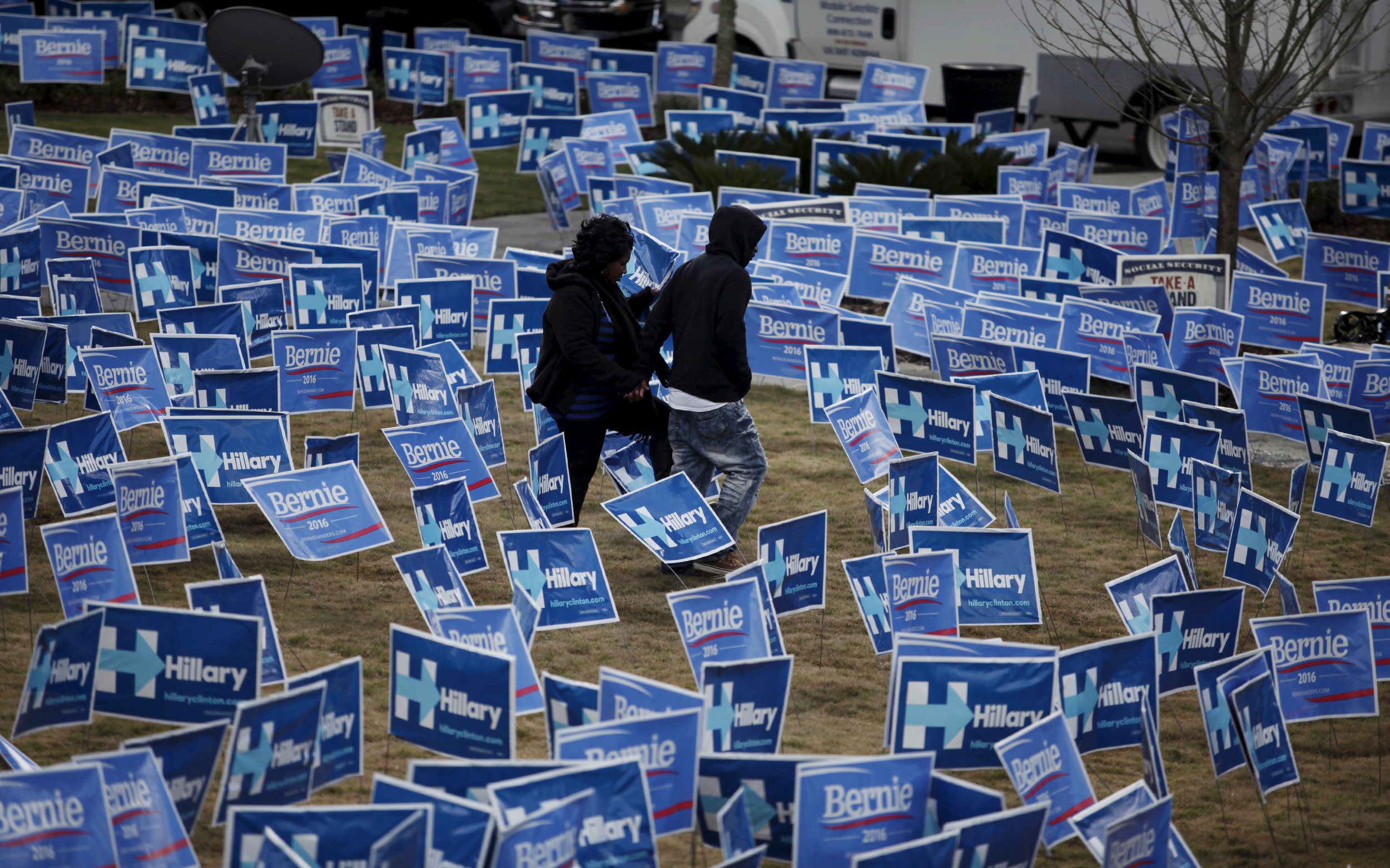 Bernie Sanders, Hillary Clinton and Martin O'Malley are scheduled to participate in the first Democratic debate of 2016 on Sunday night. It's seen as a critical point in the presidential campaign for the top two candidates, Sanders and Clinton, who have battling to take over as front-runner as the February 1 Iowa caucuses approach.
Sanders and Clinton are neck and neck in recent Iowa polls, and O'Malley also had enough support to qualify to participate in Sunday's debate, which starts at 9 p.m. ET on NBC.
It's uncertain what exactly the three candidates will sound off about, as they've mainly tackled economic issues in past debates. But, as Reuters notes, Clinton and Sanders recently have been bristling about issues such as health care and Wall Street reform, and those are likely indicators of what will be discussed during the debate.
Other critical issues that could very well crop up include immigration reform, liability protection for gun manufacturers and the Iran nuclear deal. Iran has been an especially hot topic of late, given Tehran's Saturday release of five Americans, a Washington Post reporter included, and the lifting of sanctions.
On Sunday, Sanders hinted on Meet the Press that under a Clinton presidency, the nuclear deal and the release of the prisoners may not have happened, and reiterated that Clinton at one point called current U.S. President Barack Obama "naive."
"If you think back to, I think it was 2007, during the campaign in which Secretary Clinton ran against Barack Obama, she was critical of him," Sanders said. "A question was asked to Obama and said, 'Would you sit down and talk to the Iranians?' And he said, 'Yeah, I would.' Point being that you talk to your adversaries. You don't run away from that." This goes against speculation that the door to the Iran deal was cracked open during Clinton's time as secretary of state.
Sanders also claimed that Clinton has been increasingly defensive lately, and that it is due to his campaign gaining "momentum."
On Saturday night, The New York Times reported that Sanders proposed to amend a 2005 bill that would repeal part of a law that grants gunmakers and dealers immunity from lawsuits. It's a move that Clinton supports, but she also took the opportunity attack Sanders, saying that he had "flip-flopped" on the decision in the past, as he had initially voted in favor of the Protection of Lawful Commerce in Arms act. Both Clinton and Sanders have supported Obama's recent executive action intended to curb gun violence in the United States.
At a forum at Drake University in Iowa last week, all three candidates stressed the importance of immigration reform. Sanders straddles a peculiar position here, though. While he's come out to say that, as president, he would prevent undocumented immigrants from potentially being deported and that he'd allow them to buy insurance via the Affordable Care Act, his stance on immigration has won approval from some Republicans. As TIME notes, Sanders opposed an immigration reform bill from 2007, and has said that immigrants potentially jeopardize Americans' ability to obtain jobs.
But last week, he seems to have changed his tune, and said at the forum: "We have to move towards a comprehensive immigration reform in a path towards citizenship." Clinton, who has been criticized in the past for her immigration stance, was asked at the forum if she would be the "next deporter-in-chief." She reiterated that the White House's recent slew of immigration raids were "divisive," noting that they were "sowing discord and fear." She promised instead that all people would be subject to due process laws if she is elected.