ISIS Gunman Dead After France Supermarket Hostage Killings
Updated | A gunman who claimed allegiance to the Islamic State militant group (ISIS) killed three people and wounded several others in a series of shootings in the south of France. The man stole a car before attacking a group of police officers and taking several hostages in a supermarket. He was shot dead when police stormed the building.
The gunman entered the store in Trèbes, Aude, around 62 miles from Toulouse close to the Spanish border, and shots were heard shortly afterwards. French newspaper Le Depeche du Midi quoted witnesses who said the man said he wanted to "avenge Syria" as he opened fire. Two people—one employee and one customer—were killed in the supermarket.
A local TV station reported that the man, believed to be a Moroccan national, called for the release of Salah Abdeslam, the sole surviving member of an ISIS cell that attacked Paris in November 2015 and killed 130 people.
The incident, which French Prime Minister Edouard Philippe said appears to be a "terrorist act," is being referred to the counter-terrorism unit of the Paris Prosecutor's office, AFP said. French Minister of the Interior Gérard Collomb traveled to the scene, which was put under lockdown by armed police.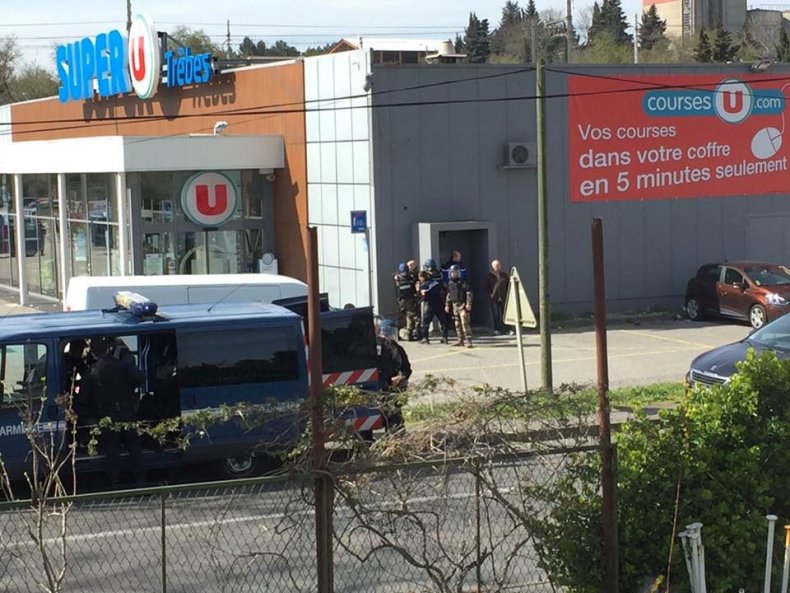 AFP's France correspondent reported that a police officer had also been shot in Carcassonne, some five miles away. The car used in the attack was later found in the parking lot of the supermarket where the other shootings took place. The car was stolen in Carcassonne after the gunman killed its owner.
Le Figaro reported that the man attempted to run over a group of policemen who were out jogging before firing several shots at them and fleeing. The officers threw themselves to the floor, but one was hit in the shoulder and was transported to hospital, where he is undergoing treatment.
This article has been updated throughout.