Mexico Hotel Massacre as 11 People Shot to Death in Celaya
Armed gunmen stormed a hotel and two bars in Mexico, spraying them with bullets and then setting them alight in a coordinated attack that reportedly left 11 people dead.
The massacre took place in Celaya, Guanajuato, and the attack began at around 10.00 p.m. on Monday night (May 23). Eyewitnesses said that heavily-armed hooded men opened fire indiscriminately inside the premises and hurled Molotov cocktails to start the blazes.
The motive for the attacks remains unclear, but some reports suggested local crime lords were responsible. Mexican TV station Telemundo 20 reported a chilling incident near the scene of the attack earlier that day. On Monday morning, plastic bags containing human remains were found with a cardboard sign bearing threats from organized crime bosses. The nature of the threats and the name of the gang was not disclosed.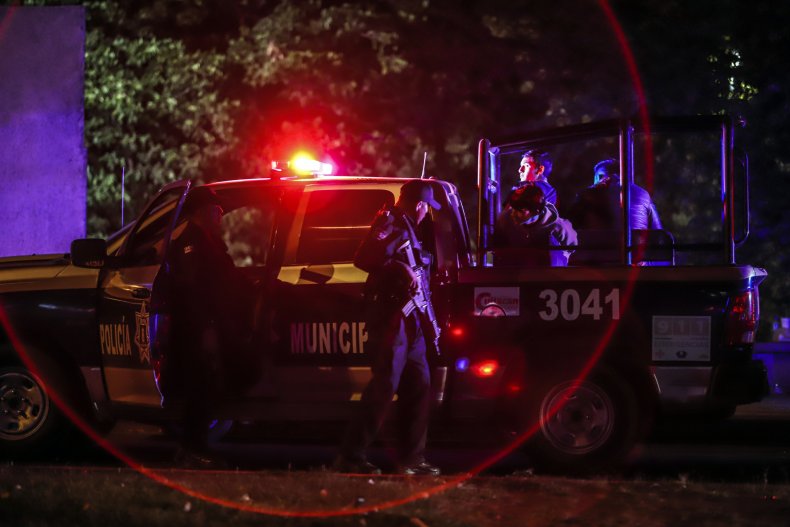 The attack unfolded in the Lindavista neighborhood at the Gala Hotel, which has two adjoining bars that do not have a name, according to El Sol de Hidalgo. The newspaper reported sources close to the investigation had confirmed there had been at least 11 deaths. Residents reported hearing a barrage of gunfire, prompting numerous calls to the police. Some terrified residents living near the scene of the attack tried to flee their homes, the newspaper added.
Telemundo 20 reported that around 15 heavily armed, hooded men had arrived at the scene in two pickup trucks. They fired more than 50 shots across the three venues before lobbing their homemade gasoline bombs to burn the scene.
Some patrons who managed to hide in hotel rooms during the attack reported that the whole incident was carried out in just over a minute before the gunmen fled.
The station said that of the 11 who died, four perished at the hotel—two men and two women—while a further six died in the bar areas —five women and a man. Another woman who had been receiving treatment for her injuries later died in hospital.
Numerous firefighters, paramedics and police officers attended, along with army soldiers and the National Guard, who helped lock down the surrounding streets.
So far authorities have not released any official information about the massacre.
Newsweek has reached out to local authorities.
Update 5/24/22, 7:00 a.m. EDT: This article has been updated with further information about the attack and victims.