Hotel Fire Kills 17 as Fire Engine Ladders Aren't Tall Enough to Reach Upper Floors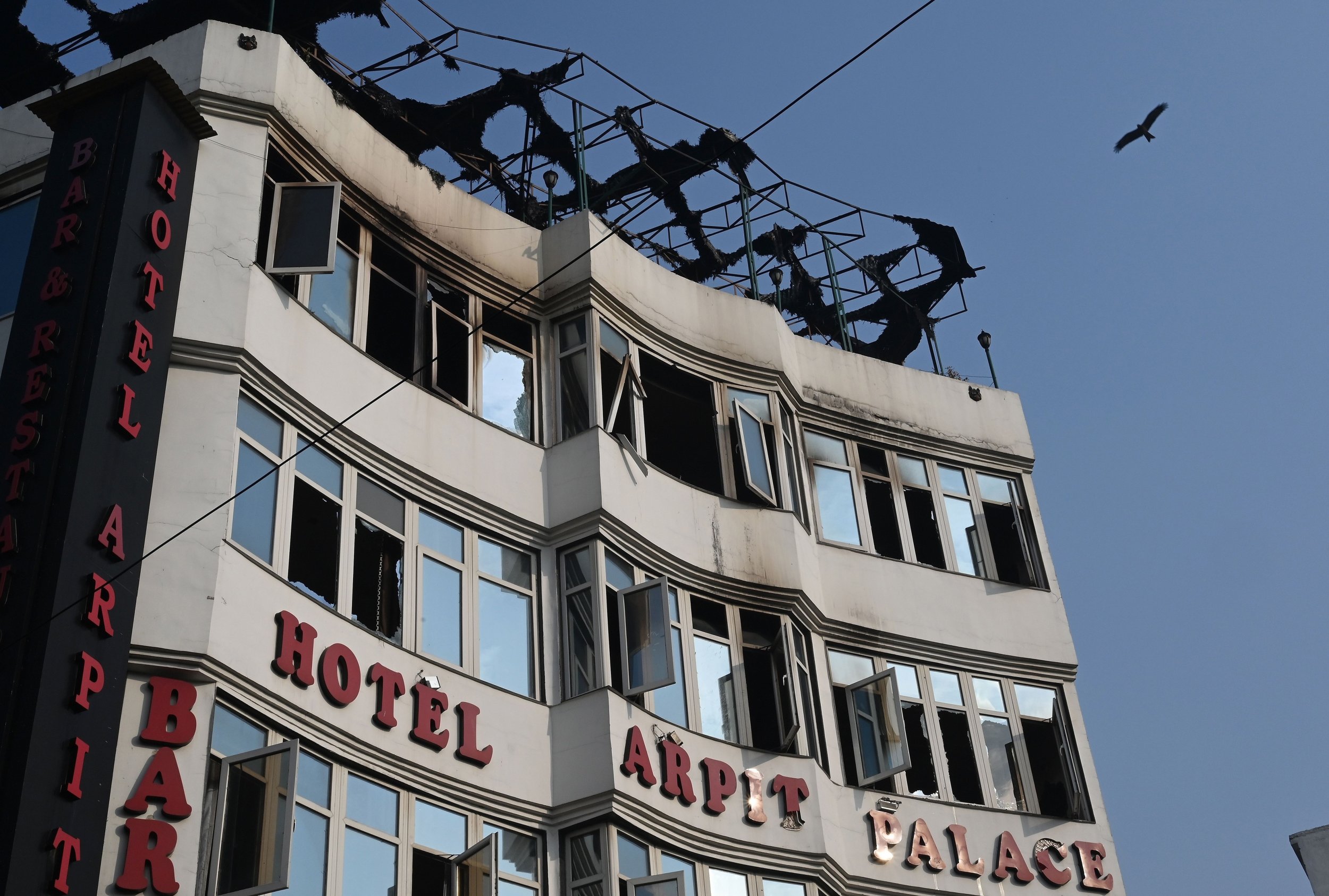 Questions have been raised about fire safety in India after 17 people, most of whom were sleeping at the time, died when a blaze ripped through a budget hotel in New Dehli.
Among the dead were a mother and child who tried to escape by leaping out of the window. Most of the victims died due to suffocation, The Associated Press reported.
One hotel guest said there were delays to the rescue efforts because the fire engine ladders could not reach the top floor of the six-floor Hotel Arpit Palace in the Karol Bagh area of the city.
Sivanand Chand, 43, was among the three dozen people rescued, waking around 4 a.m. on Tuesday, struggling to breathe and seeing flames rising quickly.
"When I got out of my room, I could hear, 'help, help!' from adjoining rooms. In 15 minutes, the whole room was black," Chand said. By 7 a.m. the fire was brought under control by more than two dozen fire engines.
Deputy Chief Fire Officer Sunil Choudhary told ANI: "The fire has been doused. We have to look for bodies, if any, inside the hotel.
"Those injured have been sent to hospital. Two hotel staff members had jumped from the fourth floor of the hotel in an attempt to save themselves. The status of the staff who jumped is yet to be known."
Guests said they could not use the corridors to escape because they had wood paneling and there were no proper fire escapes at the 25-year-old building, according to NDTV.
Amid concerns about the fire safety shortcomings, Delhi Health Minister Satyendar Jain said: "There is a clear case of negligence here."
Delhi Chief Minister Arvind Kejriwal said a magisterial inquiry has been ordered that will examine whether there are other fire safety violations at other hotels nearby.
NDTV reported authorities often raid premises to enforce building codes and fire safety rules in the area, which is home to hundreds of hotels, shops and offices crisscrossed by narrow alleys where electric wires hang overhead.
Indian President Ram Nath Kovind tweeted: "Very sad to learn about the loss of lives in the tragic fire accident in Karol Bagh, Delhi. Heartfelt condolences to bereaved families and wishing an early recovery to those injured."
Prime Minister Narendra Modi tweeted: "Deeply saddened by the loss of lives due to a fire at Karol Bagh in Delhi. I convey my condolences to the families of those who lost their lives. May the injured recover soon."