35 Hotels with Food Worth Staying in For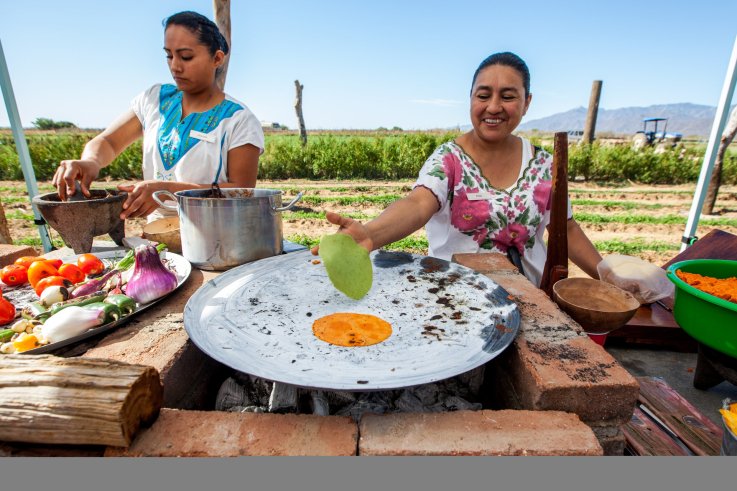 The best ceviche conjures a breezy day at the beach: uplifting, refreshing, slightly saline with hints of the sea, but never fishy. This one, made before my eyes on a weeklong trip last spring to Cabo San Lucas, was bright and simple: local sea bass marinated in lime juice tossed with diced cucumbers, red onions, thinly sliced carrots and Serrano chiles, tiny chunks of mango, multicolored cherry tomatoes, all plucked from the vine or dug from the dusty earth at a nearby farm in Miraflores that morning.
Next came a bowl with shoestrings of crisp tortillas, bits of Oaxacan cheese, epazote and amaranth greens. The chef arrived quietly with a ceramic jug of silky tortilla soup that he poured over the accouterments. It was fragrant, complex, a touch of heat from fried guajillo chiles, the earthy flavor of fresh corn tortillas permeating the perfect puree. It was the best tortilla soup I've ever had.
I was at a Hilton.
Hotel food is notorious for being mediocre, at best. And why shouldn't it? Hotels once had the luxury of resting on the laurels of their captive audiences as an excuse to offer lousy food. That laziness is no longer permitted: 95 percent of American travelers cite food experiences as a top travel priority, according to the World Food Travel Association's 2016 Food Travel Monitor. Hotels in Los Cabos and around the world no longer have the option to cheat on their cuisine.
In Portland, Oregon, known for its world-class dining, hotel restaurants are some of the city's finest. The Rose City's Imperial, Departure, Headwaters and Jackrabbit each occupy a corner of a hotel, and more openings are on the way. Seeking the best Niçoise salad this side of the canal district after a bicycle ride in Amsterdam? Look no further than the Dylan Hotel, which houses not one, but two fabulous restaurants (one with a Michelin star.) And if you find yourself with an empty stomach and a full wallet in California's wine country, shell out for the best meal of your life at the Restaurant at Meadowood in St. Helena.
Dining in your hotel throughout an entire vacation was once gauche, as far as most well-heeled travelers are concerned. But occasionally, even a Hilton offers tortilla soup to rival the best in the state, just steps from your comfortable room.
Here are a few of our favorite hotel-food offerings at home and abroad.