Hotel Near G7 Summit Boarded Up Due to COVID Outbreak, Security for German Delegation Among Hotel Guests
A hotel located just one mile from where world leaders are meeting at this week's G7 summit in Cornwall, England, has been shut down due to a COVID-19 outbreak among staff.
The Pedn Olva hotel in St. Ives said it will "fully close" after discussing the new infections with Public Health England (PHE). It is believed that 13 employees have tested positive, according to local outlets.
On Thursday, Cornwall reported 60 new infections, nearly tripling the number of cases recorded the day before.
The hotel initially planned to stay open and bring in additional staff from other venues owned by the parent company, St Austell Brewery. A spokesperson for the company told Cornwall Live that "a number of our team members at the Pedn Olva have tested positive for COVID-19 and are currently self-isolating."
"Our rooms remain open to overnight guests, all of whom we've been in communication with since becoming aware of the outbreak," the spokesperson said.
However, after "extensive discussions" with PHE and Cornwall Council, hotel owners "have taken the decision to fully close the hotel."
"We fully appreciate the inconvenience given the limited accommodation options available in the area at the moment but the safety and security of our team and guests is our upmost priority," St Austell Brewery said in a statement. "The hotel will reopen once a full COVID-19 deep clean has taken place and we have the available staff to run it."
The hotel is also reportedly hosting several members of the security detail for Germany's delegation.
Several members of the security team who are staying at Pedn Olva disputed being informed by the hotel, telling Sky News that they had "been told nothing" about the outbreak.
They said it would likely be difficult for them to find other accommodation, as most hotels in the area have been fully booked in preparation for the summit, and suggested they may purchase a tent to sleep in on the beach.
A government spokesperson told Newsweek that after the outbreak became known, one member went into quarantine as a precaution. "This has no impact on the visit of the chancellor and her delegation to the G7 summit to Carbis Bay," the person said.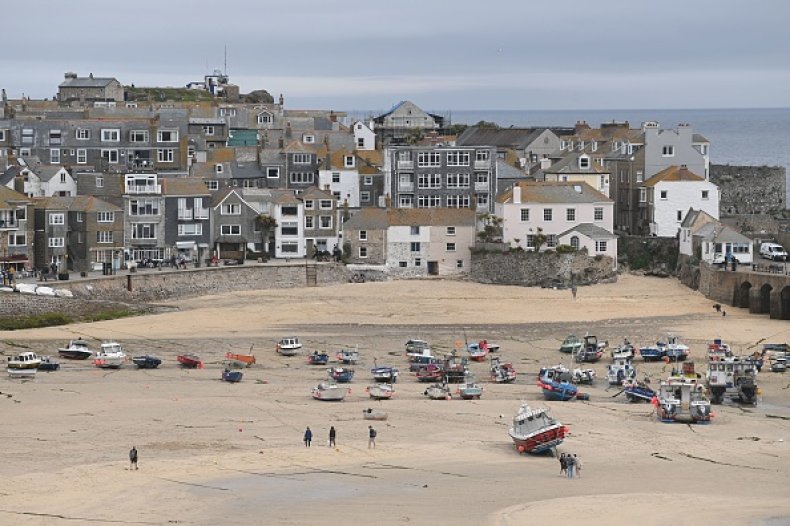 The closure comes on the eve of the G7 summit which begins on Friday and goes through Sunday at the Carbis Bay Hotel. Leaders from the world's seven largest advanced economies—the U.S., U.K., Canada, France, Germany, Italy and Japan—will meet to discuss pandemic recovery among other international issues.
Representatives from the European Union, India, South Korea and Australia have also been invited this year.
The summit will notably mark President Joe Biden's first foreign visit since taking office in January.
Earlier this week, Pedn Olva posted about the event on social media, writing, "It's not long now until Cornwall hosts world leaders at the 2021 G7 summit. They've certainly chosen a special location. Carbis Bay and our home in St. Ives lie in a cherished corner of the county that's peppered by golden beaches, turquoise bathing waters, and an abundance of attractions."
Newsweek reached out to St Austell Brewery for additional comment but did not hear back before publication.
Update 11/06/21 9 a.m. This story was updated with comments from the government of Germany.
Newsweek, in partnership with NewsGuard, is dedicated to providing accurate and verifiable vaccine and health information. With NewsGuard's HealthGuard browser extension, users can verify if a website is a trustworthy source of health information. Visit the Newsweek VaxFacts website to learn more and to download the HealthGuard browser extension.