Hotel Where Las Vegas Gunman Carried Out Attack Is Laying Off Employees After Mass Shooting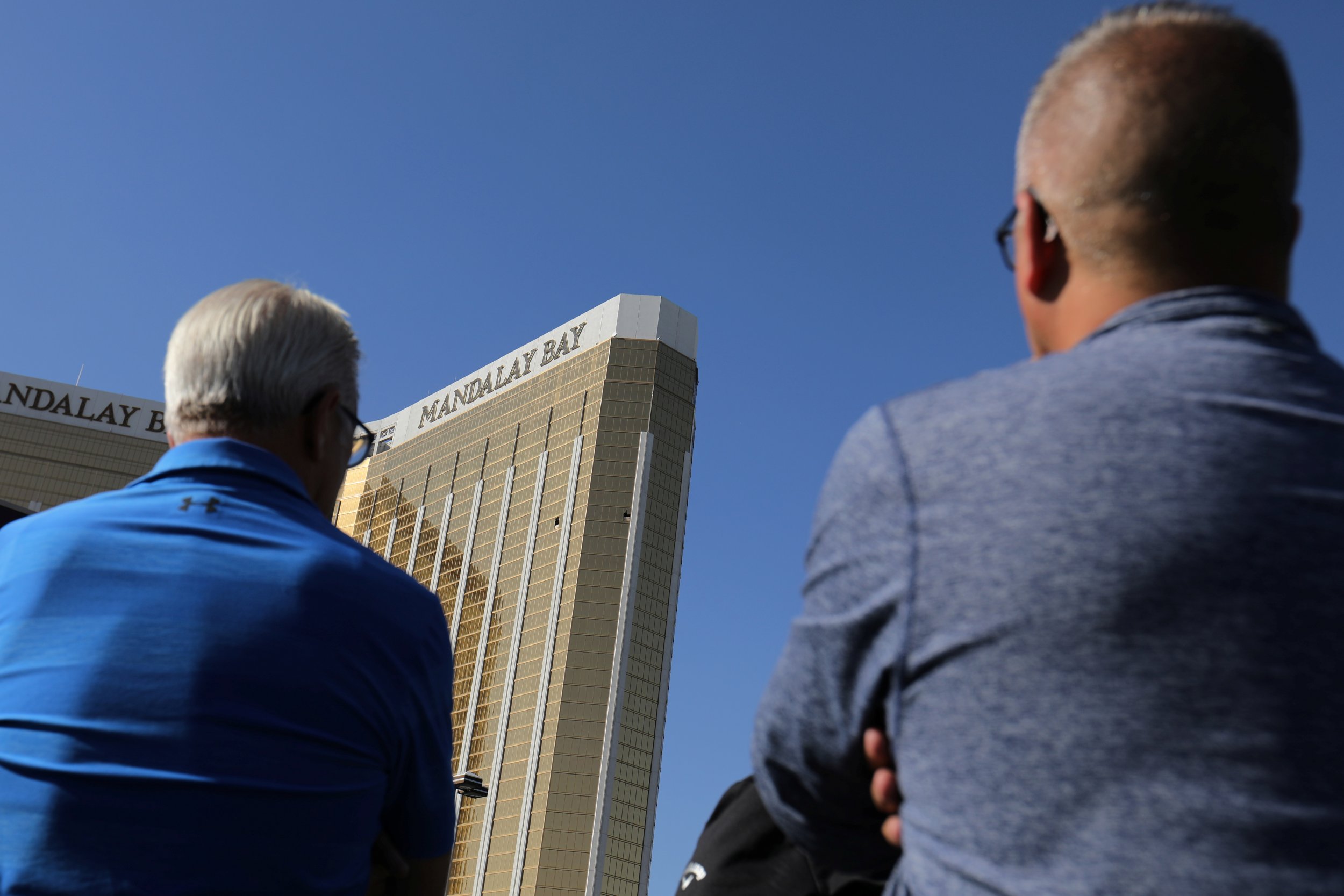 The hotel where the Las Vegas gunman carried out a sniping attack on concertgoers last month is laying off employees and cutting back its hours—a cost-cutting measure as it deals with a shrinking number of guests since the hotel saw the deadliest mass shooting in recent U.S. history.
Several hundred employees at the Mandalay Bay Resort and Casino were affected by the cuts, according to local NPRaffiliate KNPR.
The cuts came after the hotel's parent company, MGM, announced its third-quarter earnings, the first financial disclosure since the Oct. 1 attack that left 58 dead and more than 500 others injured after gunman Stephen Paddock opened fire from his hotel room on the 32nd floor. After the attack, MGM Resorts' stock plummeted but had steadily increased to its levels before the shooting. But company revenue is down 72 percent compared to last year's earnings in the same quarter, decreasing from $535.6 million to $149.1 million.
Serena Talledo, who has worked at Mandalay Bay for three years, told the Las Vegas Review-Journal she'd had her hours cut significantly without any warning.
"I'm so scared. They're not even giving us two weeks, a month, nothing," she said. "I had three co-workers call me, crying, saying, 'Did you hear? Did you hear?'"
Talledo told the newspaper that while she retained her job, she isn't guaranteed even one shift a week, basically eliminating her income.
MGM Chief Executive Officer Jim Murren said during a conference call that the problems were primarily contained to Mandalay Bay and that other MGM properties weren't as affected, according to KNPR.
The hotel has closed a wing of the 32nd floor of the hotel where Paddock meticulously planned his attack, posting cameras to detect authorities, blocking a stairwell door and carrying up an arsenal of guns and thousands of rounds of ammunition over several days.
Authorities are still working to piece together why Paddock carried out the attack and targeted country music fans, though they do have a better idea on his motive in the month since the attack.
Clark County Sheriff Joe Lombardo said the gunman was narcissistic and obsessed with his status as a high roller in casinos but had "lost a significant amount of his wealth" over the last two years.
Lombardo said Paddock was depressed and that the changes in his life might have been a "determining factor" in the shooting—but it's still a mystery as to what inspired Paddock to choose Oct. 1 to cause such carnage.
Authorities continue to speak with Paddock's friends and family members; thus far, all say they had no idea what he was planning.