Hours Before Presidential Debate, Trump Campaign Sends Out 'Just Finished Debating Joe Biden' Email
President Donald Trump's re-election campaign allegedly sent out a letter claiming he had finished debating Democratic presidential candidate Joe Biden before the debate occurred on Tuesday.
While the letter allegedly did not claim any sort of victory in the debate, the letter was written in a way that indicated the debate had already happened. A photo of the letter was tweeted Tuesday by Bloomberg reporter Jennifer Jacobs.
"This debate will go down in HISTORY," the letter read. "I showed the American People that I will ALWAYS fight to put America First no matter what and that I will NEVER stop working to Make America Great Again."
"I know the Fake News media will only report LIES about the debate and how STRONG our movement is," the letter continued before asking the recipient for donations.
Newsweek reached out to Jacobs and President Trump's re-election campaign for comment.
In November 2019, the Biden campaign also sent a premature fundraising letter which implied that the fifth Democratic debate had already happened.
"I hope I made you proud out there, and I hope I made it clear to the world why our campaign is so important," the letter read. Members of Biden's mailing list received the email roughly six hours before the debate was scheduled to begin.
Biden's campaign apologized for the letter with a follow-up email. "You might have just gotten an email from Joe about just getting off the debate stage," the email said. "That's our bad."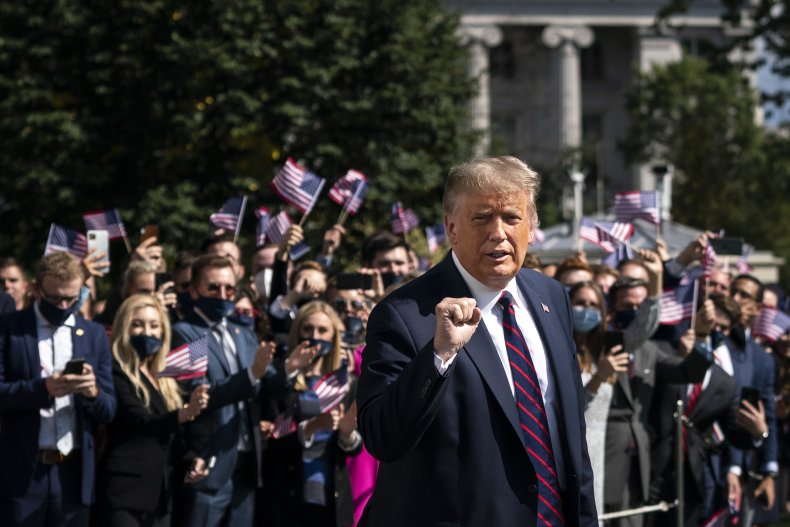 Campaigns for both candidates have taken potshots at each other as the debate approached. Trump alleged that Biden's previous positive debate performance against was the result of Biden taking drugs. President Trump has referred to Biden as "Sleepy Joe" during public remarks, calling Biden a "low energy candidate."
"I think there's probably—possibly—drugs involved," Trump said during an interview with Fox News in September. "That's what I hear. I mean, there's possibly drugs."
Trump said he would take a drug test before the Tuesday debates and called for Biden to take one, too. Biden declined.
Biden's campaign claimed Tuesday that the Trump camp asked debate moderator Chris Wallace not to speak about the American fatality rate attributable to COVID-19. Trump campaign communications director Tim Murtaugh said that claim was false.
"This is a lie," Murtaugh tweeted Tuesday, "and a continuation of the politicization of a public health crisis that Biden has been engaged in for months."
Trump has also alleged that Biden used a TelePrompTer during public appearances so that he would not forget what he was supposed to say. With no cue cards present at the Tuesday debate, Trump's campaign allegedly asked for Biden to be checked for hidden earpieces before taking the stage.
Biden responded to some of the claims made by the Trump campaign in a predebate tweet published Tuesday night. Biden posted a photo of a pair of earbuds and a carton of ice cream.
"It's debate night, so I've got my earpiece and performance enhancers ready," Biden wrote.