House Approves Mitch McConnell's Plan To Have His Cake and Eat It on the Debt Ceiling
On Tuesday night, the House voted 222-212 for a framework that would allow Senate Democrats to lift the debt ceiling through a simple majority vote, approving Senator Mitch McConnell's plan to allow the debt ceiling raise to pass without needing his fellow Republican senators to vote on it.
The vote broke down along party lines, with Illinois Republican Representative Adam Kinzinger being the only House Republican to vote along with Democrats in favor of the bill.
The Senate will now need to approve the proposal, which states that Senate Democrats would have to conduct their simple majority vote by Jan. 15, CNN reported.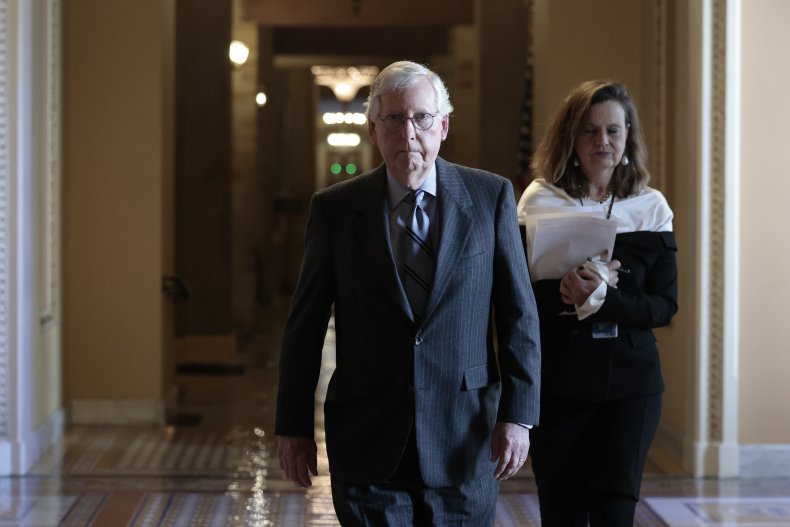 Congressional Democrats had considered tying the debt ceiling increase to the defense funding bill, but Republicans opposed the idea. Senate Republicans indicated that they would vote against the combined proposal and accused Democrats of trying to force them into supporting an estimated $30 trillion debt increase, including whatever consequences the increase might pose.
So instead, the House measure would allow the Senate to raise the debt limit with a one-time simple majority vote, rather than requiring the usual 60 votes needed to overcome a Senate filibuster, and likewise without requiring Democrats to use one of their two yearly reconciliation votes.
If passed, the slim Senate Democratic majority would likely vote to raise the debt limit to cover federal spending needs until after the 2022 midterm elections. All 50 members of the Senate Democratic caucus would need to vote in favor of raising the debt limit as well as 10 Senate Republicans.
Until now, Senate Republicans have remained largely opposed to voting in favor of any Democratic proposals. Nevertheless, Senate Minority Leader McConnell told reporters on Tuesday that he is "confident" he can get 10 Senate Republican votes to approve the one-time simple majority vote.
However, Republican South Carolina Senator Lindsey Graham said he doubts that McConnell will be able to find the necessary votes, according to CNN.
McConnell initially said that he would force Democrats to use reconciliation to raise the debt ceiling. However, he has since changed his stance because he, as a Republican leader, finds himself in a tough position. If he doesn't gather Republican support to allow Democrats to independently raise the debt ceiling, then midterm voters may punish Republicans for contributing to the resulting government shutdown.
While estimates vary, without an increase, the government will hit its current debt limit somewhere between December 15 and January 28, 2022, according to The Treasury Department and the Bipartisan Policy Center.