House Bill Would Block Trump's Plan to Resume Testing of Nuclear Weapons
A military spending bill approved on Tuesday by the House Appropriations Committee contains a provision that would prevent the Trump administration from conducting any nuclear tests, something that was reportedly floated at a May 15 meeting of senior officials representing the top national security agencies.
The bill would prohibit funding "to conduct, or prepare to conduct, any explosive nuclear weapons test that produces any yield," Defense News reported.
"Critically, the bill would prevent the Trump administration from using any funds to carry out its dangerous and short-sighted plan to resume nuclear testing," Democratic House Appropriations Committee Chairwoman Nita Lowey of New York said in a statement.
The bill would also provide $13.7 billion for nuclear weapons accounts—that's approximately $1.9 billion less than the administration's desired amount and $1.2 billion more than the amount budgeted in 2020.
Republican Representative Mike Simpson of Idaho who serves as the top Republican on the House Energy and Water Development and Related Agencies Subcommittee said his party opposes the proposed cut in funding.
"While I acknowledge the increase above last year, we must also acknowledge that the threats we face today are not the same threats we faced in the years immediately following the end of the Cold War. We must adequately fund the activities necessary to maintain a safe, reliable and effective stockpile," Simpson told the military news publication.
Even if the bill advances, the Senate Armed Services Committee will still be allowed to edit the bill before it is sent to the Department of Energy and the White House budget office for review.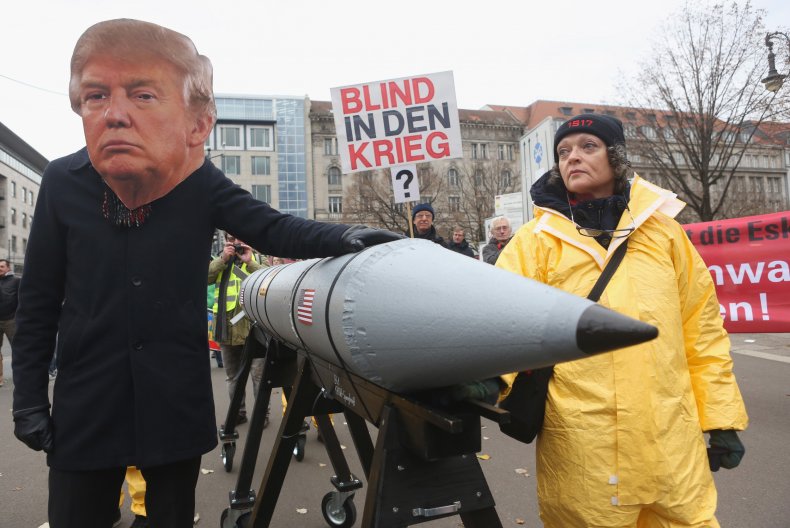 On May 22, The Washington Post reported that the Trump administration wanted to conduct a nuclear test to help the U.S. secure a better negotiating position for regulating China and Russia's nuclear arsenals.
The nation's top security officials believe China is building up its nuclear arsenal and Russia has conducted forbidden tests of intermediate-range missiles, although both countries deny these claims.
While one anonymous official quote in the times called the proposal "very much an ongoing conversation," another said, "A decision was ultimately made to take other measures in response to threats posed by Russia and China and avoid a resumption of testing."
If the Trump administration conducted a nuclear test, it would be the first conducted by the U.S. since 1992 and would end a decades-long moratorium on such tests.
Daryl Kimball, executive director of the Arms Control Association, has public voiced worry that a nuclear test by the U.S. would encourage other countries to do the same, potentially escalating global tensions and harming global ecology.
Over 184 nations have signed the Comprehensive Nuclear-Test-Ban Treaty, but the U.S. never has: former President Barack Obama signaled interest in joining but never signed on. The Trump administration hasn't signaled any interest in signing.