'House of Cards' Final Season Teaser: Is Kevin Spacey's Frank Underwood Dead?
Netflix may have revealed how House of Cards is writing out Kevin Spacey's character in a new teaser featuring Claire Underwood standing in front of two graves released Wednesday.
"I'll tell you this though, Francis," Robin Wright's character says to her husband. "When they bury me, it won't be in my backyard. And when they pay their respects, they'll have to wait in line."
After she walks away, the two graves are revealed. First is Calvin T Underwood's, Frank's father. He lived from 1935 to 1978, and his grave reads, "Husband, Father, Servant of God." The second grave is Francis J. Underwood's, and he lived from 1959 to 2017. He will be remembered as the "46th President of the United States of America." Flowers sit on top of the gravestone.
The teaser implies the Netflix series is killing off Spacey's Frank Underwood. That could be how it explains the absence of the actor, whom Netflix fired after he was accused of sexual misconduct in 2017.
This isn't the first teaser that separates the show from Spacey and his character. Netflix released a video featuring "a message from the President of the United States," Claire on July 4. "Happy Independence Day to me," she declared. The hashtag, "My Turn," came on screen after, reminding fans how Season 5 ended.
Frank resigned as president and expected the person who took his place, his wife, would pardon him. She didn't and instead declared to the audience, "My turn." Season 6 will explore what that means for the show's new President of the United States.
Claire has been the focus of the trailers and photos released so far for the final season. These images, like the one below, also show new characters, siblings Annette and Bill Shepherd, played by Academy Award nominees Diane Lane and Greg Kinnear. They run Shepherd Unlimited, "a leading industrial conglomerate whose family foundations exert a powerful behind-the-scenes force in the American political landscape," according to Netflix. They "share a vision for the future of America, as well as a complicated past with the Underwoods."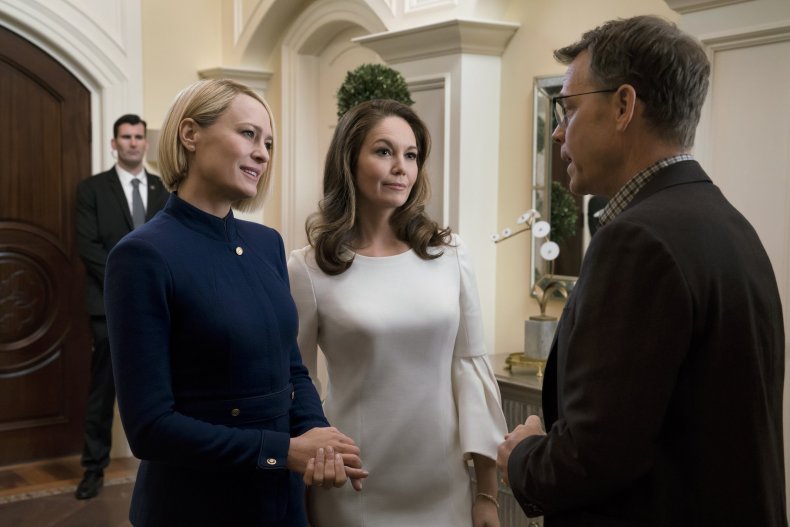 Another photo features Cody Fern (The Assassination of Gianni Versace: American Crime Story), who plays Annette's son, described as "ambitious and devoted" and someone "who represents the next generation of D.C. power players" by the streaming service.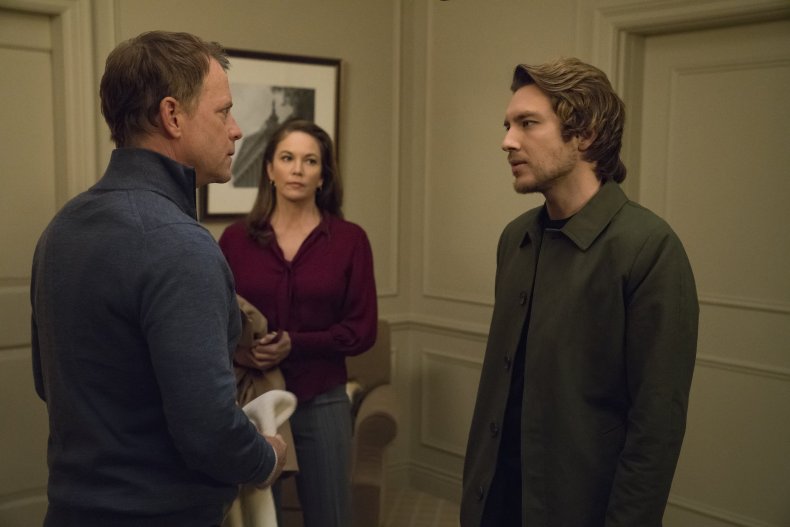 The eight episodes of the final season of House of Cards will be released on November 2 on Netflix.