Democratic Chairmen Slam Pompeo for 'Stonewalling' House Impeachment Inquiry
Three house committee chairmen responded to Secretary of State Mike Pompeo's letter on Tuesday, accusing the secretary of "stonewalling" the house impeachment inquiry.
Earlier, Pompeo accused congressional Democrats of intimidation tactics for issuing a subpoena to the secretary. They wanted documents related to President Donald Trump's communications with Ukraine, as well as depositions from department officials.
"Secretary Pompeo was reportedly on the call when the President pressed Ukraine to smear his political opponent," wrote Rep. Eliot L. Engel, Chairman of the House Committee on Foreign Affairs, Rep. Adam B. Schiff, Chairman of the Permanent Select Committee on Intelligence, and Rep. Elijah E. Cummings, Chairman of the Committee on Oversight and Reform in a statement.
"If true, Secretary Pompeo is now a fact witness in the House impeachment inquiry," they three chairmen said, adding that any effort on Pompeo's end to intimidate witnesses or prevent them from talking with Congress is illegal and will constitute obstruction of the house's inquiry.
"We're committed to protecting witnesses from harassment and intimidation, and we expect their full compliance and that of the Department of State," they concluded.
The three committee chairmen issued their subpoena to Pompeo on Friday. On Monday, it was reported that Pompeo himself took part in the July 25th phone call between Trump and Ukrainian President Volodymyr Zelenksy.
Pompeo didn't react well to the Democrats' requests, calling the subpoena and related measures attempts to "bully" officials in the Department of State. Pompeo asserted in another letter that he had been "made aware that Committee staff has been sending intimidating communications" to State Department official outside the normal procedural channels.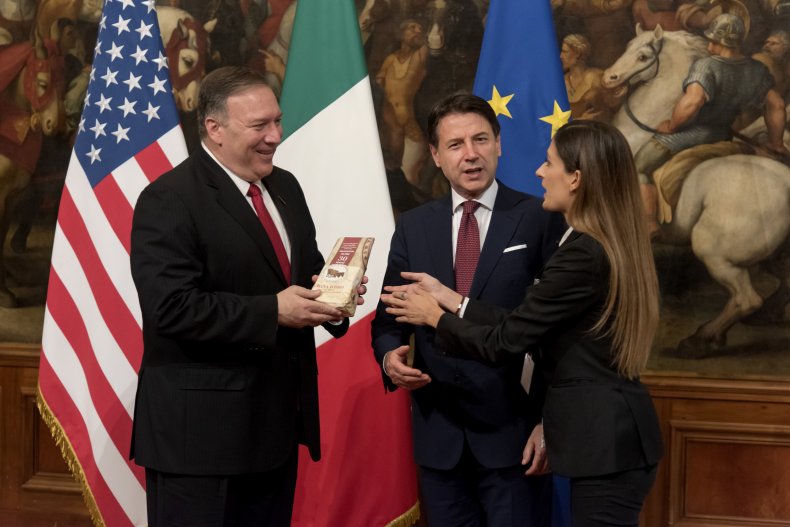 "I'm concerned with aspects of the Committee's request that can be understood only as an attempt to intimidate, bully, & treat improperly the distinguished professionals of the Department of State, including several career FSOs," Pompeo wrote in a tweet on Tuesday.
In a follow-up post, Pompeo added that he would "use all means at my disposal to prevent and expose any attempts to intimidate the dedicated professionals whom I am proud to lead and serve alongside at the Department of State."
House Speaker Nancy Pelosi announced the impeachment inquiry one week ago today. Just a couple of days after that, the whistleblower's full complaint was released, which said Trump attempted to use his power in office to advance his "personal interests" in the phone call with Ukrainian President Volodymyr Zelensky. The whistleblower also alleged that White House officials tried to "lock down" records of the conversation.
This week, it also leaked that Trump pushed the Australian prime minister to help Attorney General William Barr with information for a Justice Department inquiry he hoped would discredit the Mueller investigation, according to reporting by The New York Times.
House Democrats intend to wrap up impeachment investigations by the end of the current legislative session in December. Support is rising for impeachment, with the latest polls from Quinnipiac University noting a 10-point increase in support in just one week.