House Committee to Consider Removing Marjorie Taylor Greene From Positions, Amid Outcry
The House Rules Committee announced on Monday that it would take up measures to remove Representative Marjorie Taylor Greene from her committee assignments.
If passed by the House, Resolution 72 would effectively remove Greene from her seats on both the House Education & Labor Committee and the House Budget Committee. The Rules Committee is scheduled to meet about Greene on Wednesday.
The resolution to remove Greene, authored by Representative Deborah Wasserman Schultz, alleges that her recent conduct violates clause 1 of rule 23, which states that, "A Member, Delegate, Resident Commissioner, officer, or employee of the House shall behave at all times in a manner that shall reflect creditably on the House."
Before introducing the measure, Wasserman Schultz told reporters, "We're focused on making sure that we can render powerless the poisonous nature of this member. The House has to be able to take actions to police its own membership."
This comes as a growing number of Democrats have called on Minority House Leader Kevin McCarthy to remove the freshman congresswoman from House committees.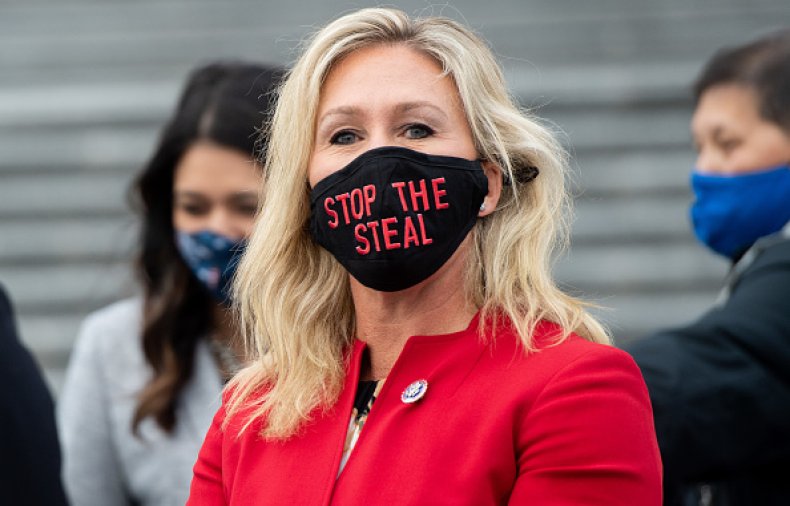 Greene has increasingly come under criticism for promoting a number of conspiracy theories, including that school shootings are a hoax and for allegedly endangering her Democratic counterparts.
Last week, progressive Representative Cori Bush announced she would move her office away from Greene's for her "team's safety," alleging that Greene "berated" her without a mask in a hallway. Greene has also been accused of supporting violent threats against House Speaker Nancy Pelosi prior to her election.
Earlier on Monday, House Majority Leader Steny Hoyer told Newsweek in an email that, "Rep. Marjorie Taylor Greene must be held accountable for her reprehensible statements, and I am discussing with Members the best course of action to do so."
Hoyer reportedly delivered an ultimatum to McCarthy earlier on Monday, urging him to strip Greene of her seats before the Democrats brought the issue to the House floor.
Until then, McCarthy had not publicly disavowed Greene, only saying that he was planning on having a "conversation" with her about the recent controversies sometime this week.
In a statement sent to Newsweek, Greene said the Democrats are threatening to remove her because they don't agree with her agenda.
"Democrats and their spokesmen in the Fake News Media will stop at nothing to defeat conservative Republicans. They are coming after me because I'm a threat to their goal of Socialism. They are coming after me because they know I represent the people, not the politicians. They are coming after me because, like President Trump, I will always defend America First values," Greene said in an email. "They want to take me out because I represent the people. And they absolutely hate it."