House Could Hear Slavery Reparations Bill for Black Americans This Summer
Some Democratic lawmakers believe that the current national focus on systemic racism brought about by the death of George Floyd could encourage movement on legislation designed to address the issue of paying slavery reparations to Black people.
Floyd, a Black man, died while in the custody of Minneapolis police officers in May. His death sparked a wave of protests across the U.S. against police brutality and racist behavior. Confederate monuments and symbols have been the target of some demonstrators who view Confederate symbology as representations of hatred against Black people.
Primary among proposed legislation concerning slavery reparations is H.R. 40, which would form a committee to further study the issue.
Primary sponsor of H.R. 40, Texas Representative Sheila Jackson Lee, said at a Wednesday news briefing by the Congressional Black Caucus (CBC) that systemic racism "has been a cancer on the skin and the fabric of this nation that has not been remedied, is has only deepened. And H.R. 40, the commission to study and develop reparation proposals, is the answer to the original sin."
Movement on the bill could happen soon, according to Michigan Representative Brenda Lawrence.
"I believe that upon returning back to Congress, that we will have an opportunity to see H.R. 40 take flight, if you will, and begin to work its way to the floor," Lawrence said Wednesday.
In June, CBC Chairwoman Karen Bass said she believes H.R. 40 could be voted on before the current Congressional session ends.
"I think it will be voted on out of committee and on the floor before this session is over," Bass said during a conference call. "I've not had a specific conversation with Speaker [Nancy] Pelosi, but I've certainly talked to other members of leadership and being on [the] Judiciary [Committee] where that bill is, I believe that it will move."
Newsweek reached out to the CBC for further comment. This story will be updated with any response.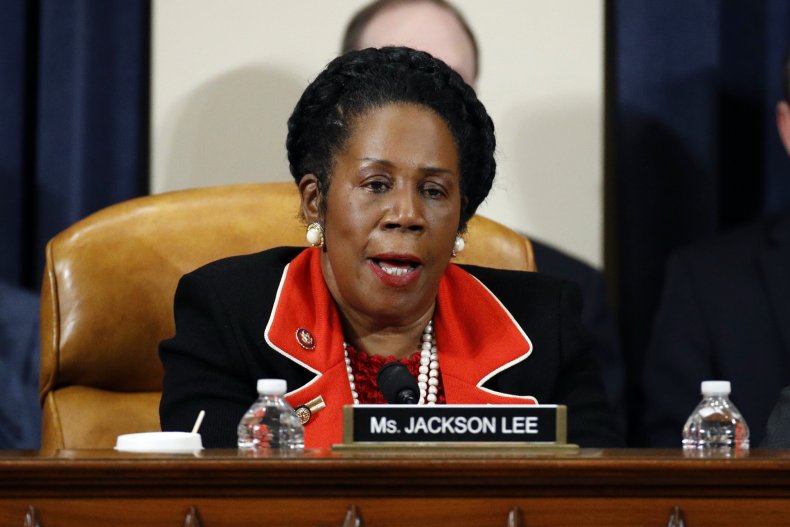 Jackson Lee introduced H.R. 40 to the House of Representatives in 2019. Jackson Lee's proposal would require the formation of a committee to study and develop reparation proposals for African Americans.
According to a summary of the bill, H.R. 40 would "examine slavery and discrimination in the colonies and the United States from 1619 to the present and recommend appropriate remedies." That includes determining the role of federal and state governments in slavery, current forms of discrimination and the "lingering negative effects of slavery" on Black people.
In June 2019, the House Judiciary Committee held a debate about the bill. New Jersey Senator Cory Booker, co-sponsor of the Senate companion bill to H.R. 40, said the meetings represented an opportunity to "speak to the ugly past and talk constructively about how to move this nation forward."
There has been no movement on H.R. 40 since its 2019 introduction. Some observers believe that even if the bill passes the House, it could be dismissed in the Senate. While some lawmakers believe that a reparations program is an important move toward reducing the wealth disparity between white and Black people, others have indicated that it would be too difficult to properly enact.
Senate Majority Leader Mitch McConnell told reporters in June 2019 that reparations were not "a good idea."
"I don't think reparations for something that happened 159 years ago, when none of us currently living are responsible, is a good idea," McConnell said. "We've tried to deal with our original sin of slavery by fighting a civil war, by passing landmark civil rights legislation. We've elected an African American president."
President Donald Trump said in a June 2019 interview with The Hill while the discussion of reparations has been a "very interesting debate," he did not "see it happening."
Presumptive Democratic presidential nominee Joe Biden said during a town hall meeting held by the NAACP in June that he wanted to examine more studies about the feasibility of reparations before committing to the concept. "If, in fact, there are ways to get direct payments for reparations," Biden said, "I want to see it."