House Dem Committee Urges DOJ, DHS to Investigate White Supremacists at Protests
Democratic members of the House Oversight Committee (HOC) sent a letter to the Department of Justice and the Federal Bureau of Investigation on Monday, asking for a probe to be launched into the efforts of white supremacists at the recent wave of protests against the death of George Floyd.
Outside agitators have been described by President Donald Trump's administration as being members of antifa [anti-fascist], a collection of individuals who do not believe in the political ideologies of individuals on the far right. Antifa has no known leadership hierarchy and has not been classified as a terrorist organization, although Trump said in May he was considering placing antifa under that label. Monday's letter from the HOC implied that white supremacists posed a greater threat during the protests than antifa.
"The Trump Administration's decision to ignore the involvement of white supremacist groups in these protests in favor of spreading wildly exaggerated rumors about Antifa has only served to encourage right-wing militias provoking violence, to delegitimize the grievances of peaceful protesters, and to add serious danger, intimidation, and fear to already emotionally charged situations," the letter read.
A similar letter was also sent to the Department of Homeland Security (DHS), requesting that they brief the committee on their actions against the "serious public safety problem of white supremacists instigating violence at peaceful protests" and share evidence supporting allegations concerning antifa.
When asked for comment, the FBI referred Newsweek to the DOJ. Newsweek also reached out to the DOJ and DHS for comment. This story will be updated with any response.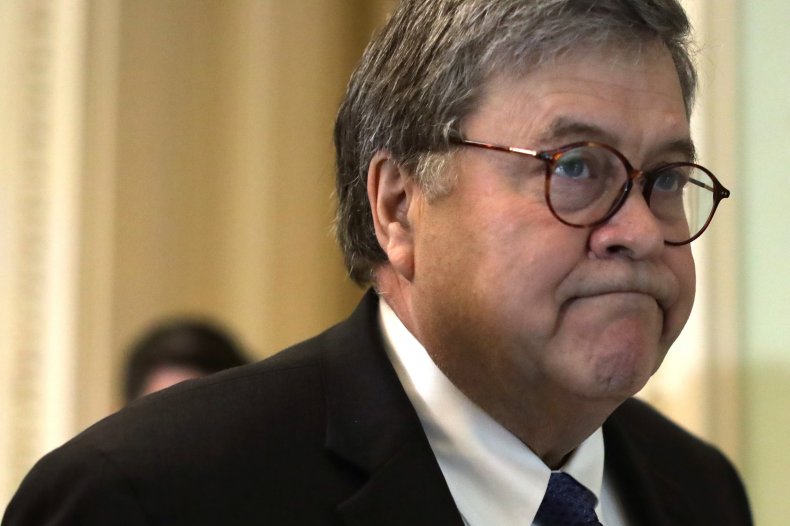 Chairwoman of the Committee of Oversight and Reform Carolyn Maloney, Chairman of the Subcommittee on Civil Rights and Civil Liberties and Chairman of the Subcommittee of National Security Stephen F. Lynch signed the letter.
According to Monday's letter, the FBI has not arrested anyone with ties to antifa in connection with the protests. "This lack of evidence is particularly telling given reports that the FBI has been actively harassing peaceful protestors, searching for non-existent links to Antifa," the letter said.
Members of the Trump administration have said antifa members were responsible for some protests becoming violent. During the civil unrest, some demonstrators have clashed with law enforcement officers, looted businesses and destroyed both public and private property.
In June, U.S. Attorney General Willam Barr said during a news conference that there was evidence that "antifa and other similar extremist groups, as well as actors of a variety of different political persuasions" were responsible for violent activities displayed by individuals participating in the demonstrations.
F.B.I. Director Christopher Wray reemphasized the antifa idea during the same news conference, referring to "anarchists like antifa and other agitators" as "exploiting" the protests for their own political gain.
On Tuesday, President Trump tweeted that 75-year-old Martin Gugino, who was pushed to the ground by members of the Buffalo, New York police department, may have been an "ANTIFA provocateur." Video of the incident posted on social media showed officers walking past Gugino as he lay on the ground bleeding. Trump said Gugino appeared to be attempting to jam police communications with a handheld "scanner."
New York Governor Andrew Cuomo said Tuesday that Trump should apologize for his tweet. "Not a piece of proof," Cuomo said at a news conference. "Totally personally disparaging. The man is still in the hospital. Show some decency. Show some humanity."