House to Formally Condemn Trump for Racist Tweets Aimed at Freshmen Minority Democrats
The U.S. House of Representatives will vote on a formal resolution to officially condemn recent tweets by President Donald Trump aimed at four freshmen progressives that have been widely condemned as racist and xenophobic, according to Speaker of the House Nancy Pelosi in a letter to colleagues Monday.
Pelosi revealed there will be "a forthcoming resolution" sponsored by Representative Tom Malinowski, born in Poland during the Cold War, and Representative Jamie Raskin, along with "other Democratic Members born abroad."
The move to formally condemn the president's recent remarks will force Republicans to choose whether or not to rebuke statements issued by Trump on Twitter that have been lambasted as racist.
The resolution, titled "Condemning President Trump's racist comments directed at
Members of Congress," was officially filed by Malinowski Monday evening and placed on Tuesday's House floor schedule for a vote.
Trump doubled down Monday and continued to defend his remarks that a group of minority congresswomen should "go back" to the "crime infested places" they "came from," suggested he is the one who is owed an apology and denied the notion his statements were racist. The first-term, outspoken lawmakers whom his attacks were directed at were Alexandria Ocasio-Cortez of New York, Ilhan Omar of Minnesota, Rashida Tlaib of Michigan and Ayanna Pressley of Massachusetts. As members of Congress, all four women—who've become known as "The Squad"—are U.S. citizens, and only Omar was born outside of the country.
"Let me be clear, our Caucus will continue to forcefully respond to these disgusting attacks," Pelosi said in her letter, which was released by her office. "The House cannot allow the President's characterization of immigrants to our country to stand. Our Republican colleagues must join us in condemning the President's xenophobic tweets."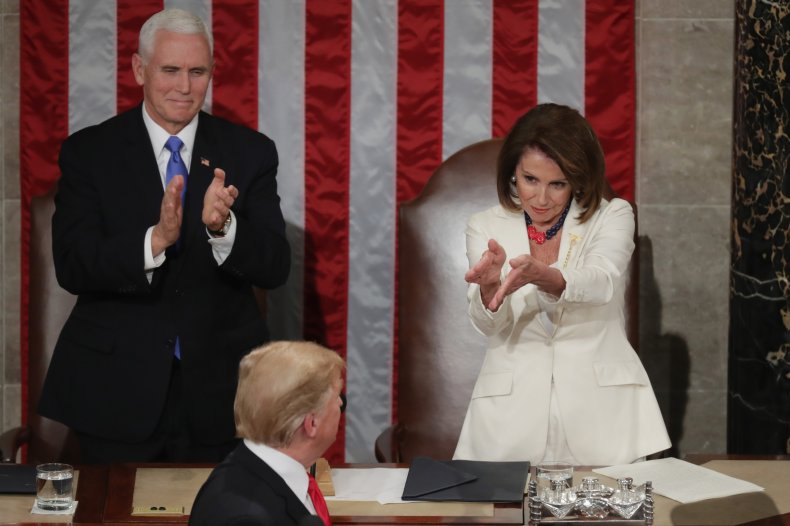 The resolution, if passed, would not be the first time—or even the second—that the House this year has officially condemned the language of politicians.
In March, the House overwhelmingly passed a resolution condemning anti-Semitism and anti-Muslim discrimination in response to controversial remarks by Omar about U.S. support for Israel that were labeled as anti-Semitic tropes. Omar, who is pro-Palestinian, voted for the resolution.
The House also overwhelmingly passed a resolution in January that condemned GOP Representative Steve King for questioning why terms like "white nationalist" and "white supremacist" have become offensive. King voted for the resolution.
Answering reporters' questions at a White House "Made in America" event, Trump again defended his remarks, reiterating his stance that if the Democratic lawmakers "are people who, in my opinion, hate our country," then they should leave.
"If you're not happy here, then you can leave," he said. "As far as I'm concerned, if you hate our country, if you're not happy here, you can leave."
Continuing, Trump said, "It doesn't concern me" that white nationalists may find common cause with his tweets "because many people agree with me."
Over the weekend, Pelosi said that by Trump telling the four women of color to "go back" to their countries, it reaffirmed that "his plan to 'Make America Great Again' has always been about making America white again."
The office of Representative Sheila Jackson Lee, an African American Democrat from Texas, has said that she, too, is working on a resolution that would condemn Trump's remarks. Jackson Lee was in the process of discussing her resolution with leadership and did not yet know whether the measure would also be voted on, according to an aide for the 13-term congresswoman.
In the Malinowski version filed later that evening, it did not make reference or appear to include portions of other resolutions.
Trump's comments from over the weekend have faced fierce backlash from Democrats, who accused the president of being "racist" and "xenophobic." Some Republicans also condemned him, although the majority of GOP lawmakers on Monday had not yet spoken out about Trump's tweets.
It "was wrong to say any American citizen, whether in Congress or not, has any 'home' besides the U.S," Republican Chip Roy of Texas wrote in a tweet. Will Hurd, also a Texas Republican and the House's lone black GOP member, called Trump's words "racist" and "xenophobic" on CNN. Michigan Republican Paul Mitchell tweeted that Trump's "comments are beneath leaders."
This story was updated after the resolution was filed and placed on Tuesday's House floor schedule.