House Majority Whip James Clyburn, a South Carolina Democrat, said Friday that he believes Congress should move forward with fast-tracking impeachment against President Donald Trump, despite the likelihood of it failing in the Senate.
In an interview with PBS NewsHour anchor Judy Woodruff, Clyburn said there's a strong, "bipartisan sentiment to impeach this president," and noted that the process could begin early next week.
"The fact of the matter is, impeachment will give us a tool, not just for removal, but it will be a tool for protecting the integrity of our democracy. This president needs the scrutiny that impeachment will give him," he said.
Calls for the president to be removed have gained significant traction in the aftermath of a violent riot at the U.S. Capitol which left five people dead and momentarily stalled the vote certification of President-elect Joe Biden.
House Speaker Nancy Pelosi warned on Friday that if Trump does not willingly resign from office, lawmakers will begin impeachment proceedings against him.
Though Trump is only in office for another 10 days before Biden is sworn in as the next president on January 20, Clyburn and a number of House members have said it's important to move forward with the impeachment process in order to establish precedent.
"I think there are certain norms that we have to adhere to. I think there are certain laws that we have to obey. And we just cannot say, because it may have some political consequences, let's not do it," Clyburn said on PBS.
"That is not the way to run the country. I think we ought to do what we think needs to be done in order to protect the integrity of this democracy. And one of those, I believe, right now is to impeach this president," he added.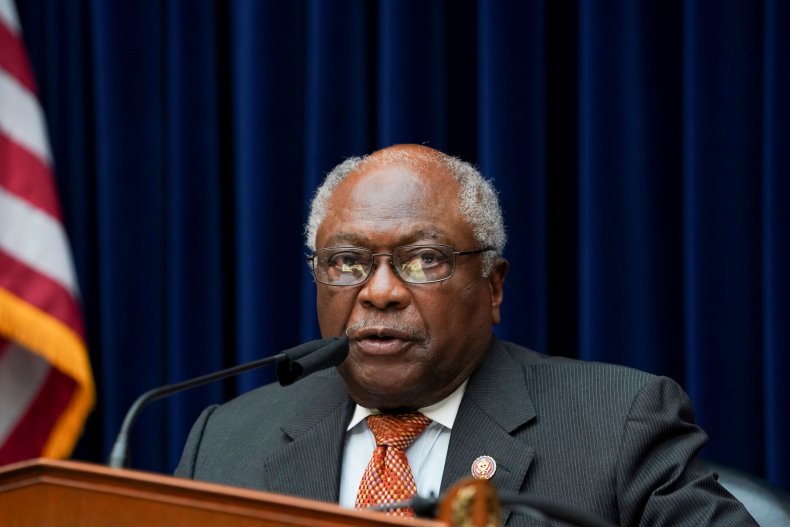 Clyburn added that lawmakers could bring forth up to three articles of impeachment against the president, including one that involves a recorded phone call in which he tried pressuring the Georgia secretary of state to overturn the election results.
If the House votes to impeach, Trump could theoretically be the only president in history to face a trial in the Senate twice.
But the motion is likely to fail in the Republican-controlled upper chamber.
On Friday, Senate Majority Leader Mitch McConnell sent out a memo saying that the Senate wouldn't even start Trump's impeachment trial unless all 100 senators agree to a hearing.
The Senate is currently in a pro-forma session, in which it is scheduled to conduct no business until January 19. According to the memo, the pro-forma session will only be interrupted if all 100 senators agree to the hearing. So far, only one Republican senator, Lisa Murkowski of Alaska, has signaled she wants Trump to leave office.
While others would likely join her, a unanimous GOP vote that would lead to Trump's impeachment trial is practically unthinkable.
"For many Republicans, a vote against the president in such a high-stakes way would carry huge political risks given that the president continues to maintain considerable support among the GOP base," Thomas Gift, director of the Center on U.S. Politics at University College London previously told Newsweek.
Nonetheless, Clyburn said he believes the House should move forward with impeachment because even if Trump is not convicted in the Senate, the process will still leave a stain on his presidency.
"It didn't say, is he convicted of impeachment? It said, to be impeached. The House impeaches. The Senate convicts. So, if I just take the reading, it just says impeachment. And so I think it's worth doing," he said.
"And, look, he's already said that he wants to be doing things that nobody else has much done before. This will help accommodate him. Nobody has — no president has ever been impeached for a second time before," he added.
Newsweek reached out to Clyburn's office for additional comment, but did not hear back in time for publication.