House Democrat Uses Fox News Poll to Argue Trump Wanted Biden Probe to Help His Reelection Campaign in Senate Impeachment Trial
House impeachment manager Representative Sylvia Garcia (D-Texas) turned to a series of Fox News polls Thursday to explain why President Trump may have chosen to investigate former Vice President Joe Biden for alleged misconduct in 2019 instead of earlier in Trump's term.
Pointing out that in 2018, Biden had publicly stated that he'd pressured the Ukraine to remove Viktor Shokin, the former Prosecutor General of Ukraine, from power, Garcia wondered why Trump waited until 2019 to make note of the Ukrainian controversy.
"Senators, it's obvious," Garcia said. "Because President Trump wanted to hurt Vice President Biden's candidacy, and help himself politically. He pushed for an investigation in 2019 because that's when it would be valuable to him, President Trump. He pushed for it when it became clear that Vice President Biden could beat him. And he had good reason to be concerned."
Turning to a series of slides containing Fox News poll infographics, Garcia noted that they showed that, "beginning around March, Vice President Biden is beating the president in polls, even on Fox News. In April, Biden officially announces his candidacy, and… that is when the president gets worried."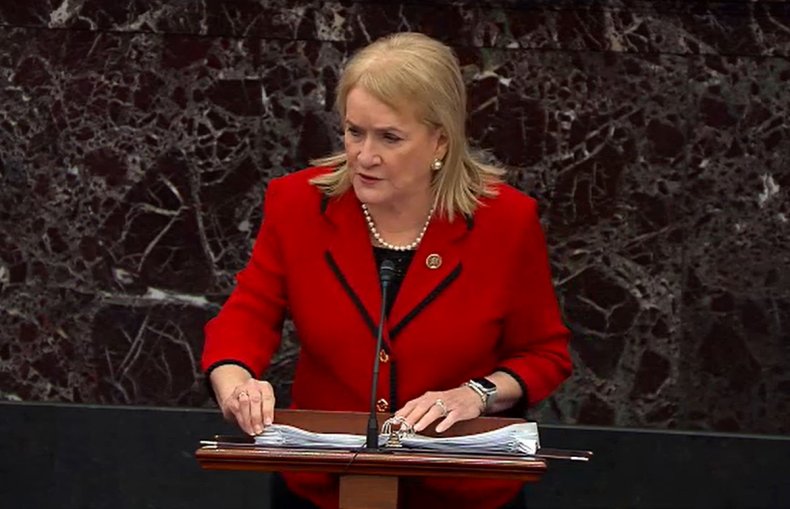 Garcia said that President Trump's increasing interest in an unproven claim that Biden removed Shokin from power to protect Burisma, the Ukrainian energy company, from a government investigation seemed to run parallel to Biden's increasing viability as a candidate. Biden's son, Hunter, served on the board of Burisma from 2014 to 2019, when his term expired.
Representative Garcia then referenced a May 2019 interview in which Rudolph Giuliani, lawyer to President Trump, said there was a large collusion connecting the Democratic National Committee, former President Barack Obama's administration, former President Bill Clinton and Hillary Clinton's "people" and unnamed Ukrainian officials to spread false information about President Trump and Paul Manafort.
Giuliani told Fox News' Laura Ingraham during the interview, "I guarantee you, Joe Biden will not get to election day without this being investigated," which Garcia directly quoted.
Garcia then cited a July Fox News poll which suggested Biden might beat him by ten points. The poll was published just before President Trump's conversation with Ukrainian President Volodymyr Zelenskiy.
"And then on July 25, after years of not caring what the vice president did, does President Trump ask for an investigation into his formidable political rival in the 2020 election," concluded Garcia.
Garcia is one of seven co-managers of President Trump's Senate impeachment trial.
President Trump is facing a Senate trial after being impeached by the U.S. House of Representatives on December 18. The charges against him stem from a phone conversation with Ukrainian President Zelenskiy in which President Trump is accused of demanding an investigation into the Ukrainian dealings of former Vice President Joe Biden and his son, Hunter, then allegedly withholding already-approved military aid from Zelenskiy until he complied with Trump's request.