House Democrats Say Trump May Have Lied Under Oath About His 2016 Campaign's Contact with WikiLeaks
The House of Representatives alleged in a court filing on Monday that President Donald Trump may have lied to former special counsel Robert Mueller about his knowledge of the 2016 campaign's contact with WikiLeaks.
The revelation came as lawmakers argued that they needed access to secret grand information used in Mueller's two-year Russia investigation for their ongoing impeachment inquiry against Trump, according to CNN and Politico. The information in question was largely redacted in the special counsel's 400-page report.
Attorneys for the chamber claimed in the filing that those materials "may also be relevant to the House's investigation of the President's solicitation of Ukrainian interference in the 2020 election."
House Democrats also stated in that the secret grand jury information "could reveal that Trump was aware of his campaign's contact with WikiLeaks."
Trump declined to sit down in person for an interview with the special counsel, but the White House did submit written answers to Mueller's questions. In his written testimony, Trump denied that he was aware of any communication between his campaign team and WikiLeaks.
But House Democrats allege that Trump may have been lying, based on a section from Mueller's report based on testimony from former Trump campaign chairman Paul Manafort. Manafort said he "recalled" then-candidate Trump requesting to be "updated" about the massive WikiLeaks' dump of emails from the Democratic National Committee.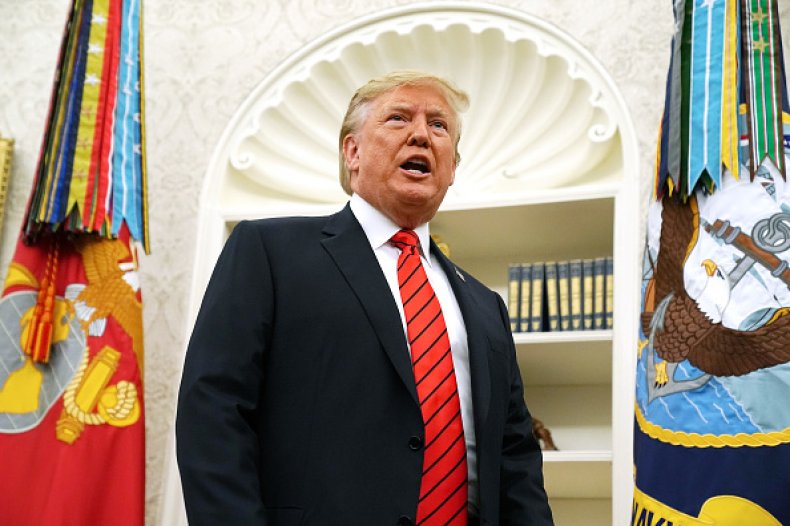 The court filing was one of the first major actions the House has taken since launching an official impeachment inquiry against Trump last week.
House Speaker Nancy Pelosi announced the inquiry amid reports that Trump pressured Ukrainian President Volodymyr Zelensky to investigate political rival Joe Biden and his son Hunter. The controversial communication was first revealed in an intelligence whistleblower complaint, which alleged Trump was "using the power of his office to solicit interference from a foreign country in the 2020 U.S. election."
House Democrats are currently preparing to issue new subpoenas based on the Ukraine whistleblower complaint. The first subpoena was issued to Secretary of State Mike Pompeo, demanding that he produce documents and a slate of witnesses that could shed light on Trump's dealings with Ukraine. Trump's personal attorney Rudy Giuliani has been subpoenaed as well.
Trump has repeatedly shrugged off the impeachment inquiry as nothing more than "Democratic witch hunt" and "presidential harassment!"
But support for removing the president is growing, according to recent polls. Quinnipiac University found that support for impeachment grew by 10 points in one week. A survey shared by the college on Monday showed that 47 percent of respondents supported impeachment, up from 37 percent in the same poll conducted a week earlier.