House Democrats Continue to Lean into Trump Impeachment Proceedings in New Court Filing
Since embarking on a six-week August recess late last month, support for an impeachment inquiry into President Donald Trump among House Democrats has grown to an all-time high, resulting in more than half of the caucus now supporting such a move.
Although the chamber's Judiciary Committee has not officially voted to initiate impeachment proceedings, Democrats continue to say that they are, "in effect," in the midst of an inquiry to determine whether to file official articles of impeachment against the president.
In a new court filing Monday, the Judiciary Committee argued that its lawsuits to enforce subpoenas for the unredacted Mueller report and its underlying evidence and for former White House counsel Don McGahn's testimony should be overseen by the same federal judge because they need the same evidence in order to determine the same question: "whether to recommend articles of impeachment against President Donald J. Trump for potentially criminal obstruction conduct."
The committee made the revelations that it was considering articles of impeachment for the first time in a court filing last month as Judiciary Committee Chairman Jerrold Nadler, a New York Democrat, and other Democratic colleagues on the panel told reporters they are essentially conducting an "impeachment investigation." Since then, Nadler and others have continued to lean into official impeachment proceedings.
"This is formal impeachment proceedings. We are investigating all the evidence, gathering the evidence," Nadler told CNN last week. "And we will [at the] conclusion of this — hopefully by the end of the year — vote to vote articles of impeachment to the House floor. Or we won't. That's a decision that we'll have to make. But that's exactly the process we're in right now."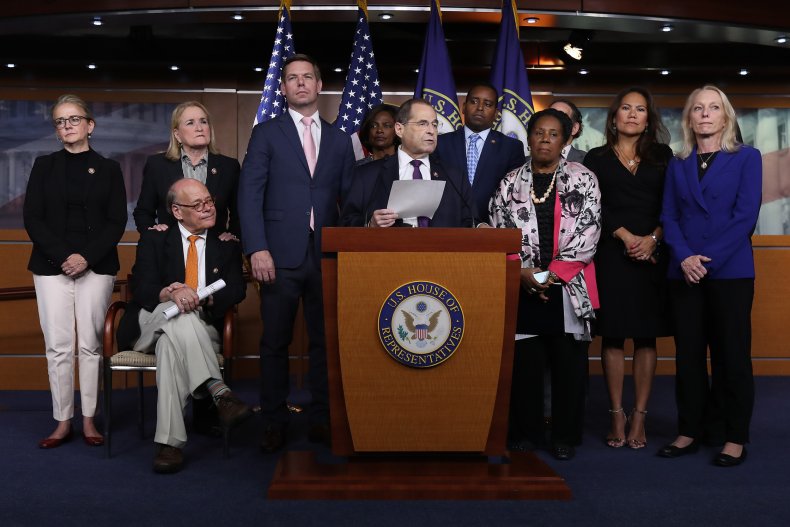 In its Monday court filing, the Judiciary Committee claimed the inquiry into whether to oust Trump from office was authorized thanks to prior articles of impeachment filed by Representative Brad Sherman on January 3 — the first day of the 116th Congress. That same day, the impeachment resolution was referred to the Judiciary Committee, but since then has not been voted on or debated for consideration.
Republicans on the committee have highlighted the lack of a committee-passed resolution approving a probe into whether the panel should consider articles of impeachment, therefore arguing that Democrats' claims of ongoing impeachment inquiry is nullified.
"By misrepresenting the impeachment process, Democrats risk politicizing and destroying Congress' most powerful constitutional check on the executive," Representative Doug Collins of Georgia, the panel's top Republican, wrote in a weekend op-ed for the Los Angeles Times. "I'm not worried about the president's interests here. I'm worried that Democrats' political bumblings are weakening the strongest recourse our chamber has to hold any resident of 1600 Pennsylvania Ave. accountable."
Speaker of the House Nancy Pelosi has continued to publicly tamp down talk of impeachment proceedings, instead advocating for six major House committees — Judiciary, Oversight, Ways and Means, Foreign Affairs, Financial Services and Intelligence — to continue investigating the Trump administration and to pursue further evidence in court. Democrats who support an inquiry argue that Trump has committed obstruction of justice and abuses of power, based on incidences detailed in the Mueller report.