House Democrats Extend IRS Deadline to Turn Over Requested Donald Trump Tax Returns
The Internal Revenue Service missed the April 10 deadline to provide the House Ways and Means Committee with six years of President Donald Trump's personal and business tax filings, but the committee's Democratic leadership has given the IRS a little more time to comply, calling the agency's concerns about the request meritless.
Ways and Means Chair Richard Neal sent the IRS a request for Trump tax information on April 3, citing a portion of the IRS Code giving certain committees authority to access "any return or return information."
However, when April 10 came around, the IRS response came not from Commissioner Charles Rettig but from the Trump cabinet, in the form of a letter from Treasury Secretary Steve Mnuchin.
"The legal implications of this request could affect protections for all Americans against politically-motivated disclosures of personal tax information, regardless of which party is in power," wrote Mnuchin in his explanation for why the April 10 deadline could not be met. "Given the seriousness of these issues, which bear no connection to ordinary tax administration, we have begun consultations with the Department of Justice to ensure that our response is fully consistent with the law and the Constitution."
Saturday morning, Chairman Neal sent off a second letter to Rettig at IRS, brushing off Mnuchin's arguments.
"I am aware that concerns have been raised regarding my request and the authority fo the Committee," wrote Neal. "Those concerns lack merit. Moreover, judicial precedent commands that none of the concerns can legitimately be used to deny the Committee's request."
Neal argued in this second letter that the law granting him the authority to request tax documents is "Unambiguous and raises no complicated legal issues that warrant supervision or review by" the Justice or Treasury Departments.
"It is not the proper function of the IRS, Treasury, or Justice to question or second guess the motivations of the Committee or its reasonable determinations regarding its need for the requested tax returns," continued Neal. "Indeed, the Supreme Court has consistently noted that the motivations underlying Congressional action are not to be second guessed, even by the courts."
He also claimed that concerns about what Ways and Means members might do with the requested returns are "baseless," and that "IRS, Treasury, and Justice must assume that the Committee Members, like all government officials, will act properly in the conduct of their official duties."
Neal extended the deadline to April 23 for Rettig to provide the requested information and that failure to comply would be seen as a "denial of my request."
As a candidate, Trump broke with decades of campaign tradition by not disclosing his tax information before the election. He claimed — and has continued to claim — that he could not make his tax returns public because they were under audit by the IRS.
However, there are no laws or IRS regulations that prevent anyone from sharing their tax returns while an audit is pending. Trump's White House Chief of Staff Mick Mulvaney openly admitted this fact last weekend, when he told Fox News Sunday the president "could always allow people to see" his returns. At the same time, Mulvaney said he believed Democrats would "never" be allowed to see Trump's tax information.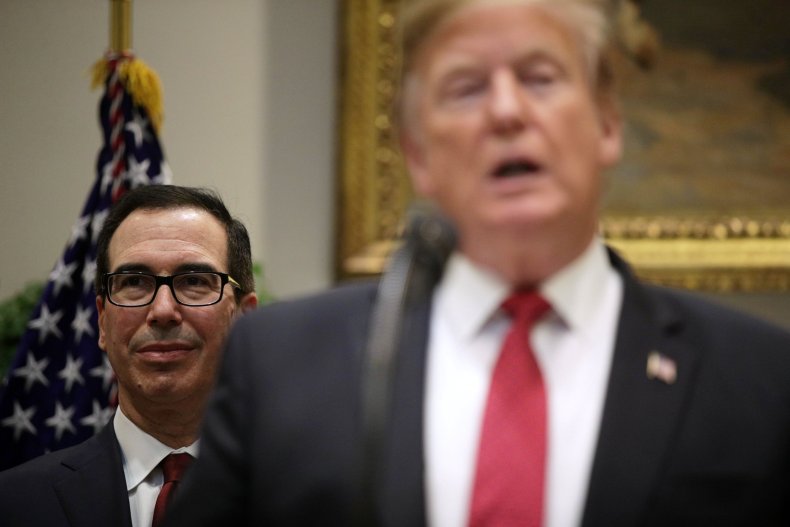 House Democrats Extend IRS Deadline to Turn Over Requested Donald Trump Tax Returns | U.S.