Democrats on the House Judiciary Committee said Wednesday they intend to investigate President Donald Trump's intention to host next year's G7 Summit at his luxurious golf resort in South Florida, citing potential constitutional violations.
Two committee members — chairman Jerrold Nadler of New York and Steve Cohen of Tennessee — argued that the move to host the international summit at Trump National Doral Miami would force foreign and domestic governments to spend money at one of the president's businesses, allowing him to directly profit and would therefore violate both the Foreign and Domestic Emoluments Clauses of the U.S. Constitution. The Democrats said they would expand their current abuse of power and obstruction of justice probes into the administration and White House, further escalating the possibility that the panel could decide to move forward with impeachment proceedings.
"Potential violations of the Foreign and Domestic Emoluments Clauses of the Constitution are of significant interest and grave concern to the Committee as it considers whether to recommend articles of impeachment," Nadler and Cohen said in a joint statement. "The Committee will broaden its ongoing investigation to include these latest revelations and will take further investigative steps, including scheduling hearings and requesting additional documents from the White House."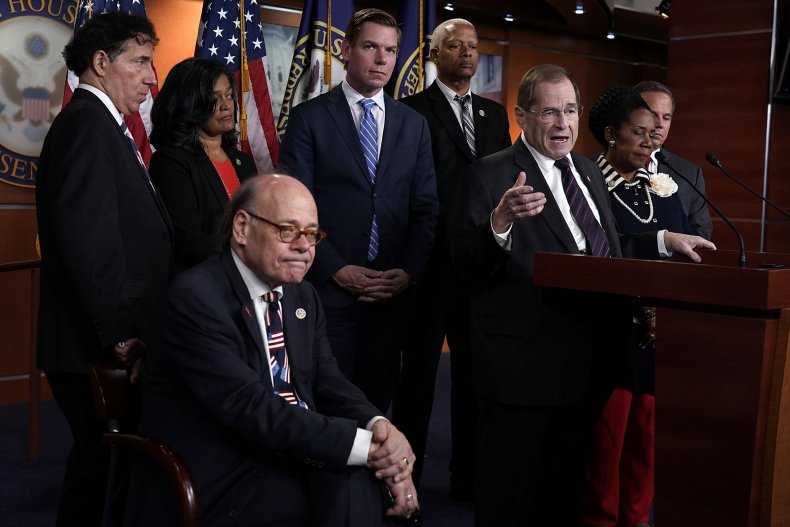 The Foreign Emoluments Clause is intended to deter corruption and foreign influence, stating that no president "shall, without the Consent of the Congress, accept... any present, Emolument, Office, or Title, of any kind whatever, from any King, Prince, or foreign State." The Domestic Emoluments Clause "prohibits a sitting President from receiving emoluments from federal or state governments, except for his fixed salary," according to the Congressional Research Service.
The Democratic duo said Trump's desire to hold the summit at one of his various properties owned around the world represented the "latest in a troubling pattern of corruption and self-dealing by the president." They further accused him of "shaping decisions about official U.S. government activities" around "personal financial interests."
"More importantly," the lawmakers continued, "the Doral decision reflects perhaps the first publicly known instance in which foreign governments would be required to pay President Trump's private businesses in order to conduct business with the United States."
During a press conference at this year's G7 Summit in France, which concluded earlier this week, Trump told reporters he was "not at all" concerned about the ethics of the situation and denied he would walk away with a profit, repeating the unsubstantiated claim he's lost billions of dollars from being president.
Trump went on to boast of his golf club's amenities, such as its close proximity to an airport and its luxurious villas, ballrooms and restaurants.
"We have a series of magnificent buildings; we call them bungalows. They each hold from 50 to 70 very luxurious rooms with magnificent views. We have incredible conference rooms, incredible restaurants," Trump said of Doral. "I'm not going to make any money. I don't want to make money. Don't care about making money."
The president has long been accused by Democrats of unconstitutionally profiting from his businesses, of which he continues to make money from and has not placed in a blind trust. Hundreds of congressional Democrats have already sued the president for potential violations of the emoluments clauses, a lawsuit that continues to make its way through the courts.