While concerned Americans have been monitoring the crises created by the Biden administration (open border, failing economy, rising crime), Speaker Nancy Pelosi worked to sneak through the House one of the most radical abortion bills in the entire Western world.
Pelosi's abortion-on-demand bill, which passed without media scrutiny, would allow elective abortion up until birth. This would add the United States to a list of only seven countries with such an extreme policy—the others include North Korea and China. Only one Democrat in the House voted against the bill.
In addition to allowing abortion up until birth, the bill legalizes sex-selective abortion and abortion based on a genetic diagnosis. This would allow abortion in the United States on a scale only seen in China, under its infamous one-child policy. Sex-selective abortion is so common in China that the country has an estimated 33 million "missing" girls. It's unthinkable what a bill like this would do to our great nation if signed into law.
So many lives would be cut short before they are even given a chance at life, liberty or the pursuit of happiness. That's why earlier this year, I reintroduced the Protecting Individuals with Down Syndrome Act. My legislation honored the rights of individuals with Down syndrome by banning doctors from knowingly performing an abortion because a baby had received a prenatal diagnosis of Down syndrome—something on which most Americans agree.
Aborting babies after they have a heartbeat and because of their sex or potential disability is beyond abhorrent. This isn't farfetched or exaggerated—this is the reality of today's Democratic Party. Countries like Denmark already abort more than 95 percent of children diagnosed with Down syndrome—the bill being pushed by the Left now is a tangible and disturbing effort to move the United States in that direction.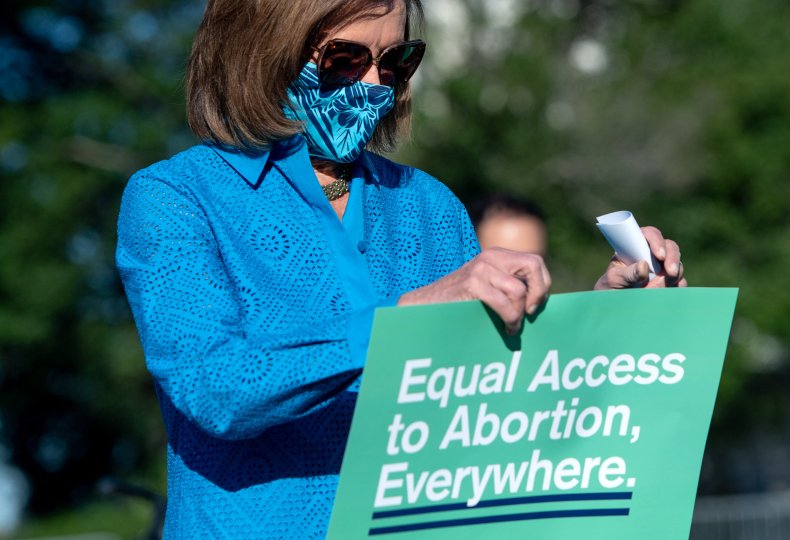 The bill—incredibly titled the "Women's Health Protection Act of 2021"—would actually allow babies to be aborted simply for being female. Abortion on demand has nothing to do with women's health and everything to do with an out-of-control abortion lobby that's being marketed by the mainstream media and funded by special interest groups like Planned Parenthood.
Pelosi's singular focus on expanding abortion far exceeds what even European nations believe is acceptable (47 out of 50 limit elective abortion to 15 weeks or earlier), and shows how great the divide is between the two parties on the issue of life. At a time when Republicans across the country are working to ensure that the preborn are protected through abortion limits which a majority of voters support, Democrats have made unfettered abortion a litmus test for their party—so much so that one of the last pro-life Democrats lost in a primary in 2020 over the issue.
Republicans want to ensure that an expecting mom has access to health care and assistance—that includes ultrasounds, details about what an abortion would do and information about available programs. Pelosi would ban popular ultrasound requirements, which many state legislatures have passed. It seems that Democrats don't want informed moms, but clients for Planned Parenthood.
Despite the best efforts of many in the media to put a positive spin on Democrats' growing extremism, Republicans' position on life is the one that's solidly in line with a majority of Americans. More than 75 percent of Americans—including a majority of those who said they are "pro-choice"—have said that they believe there should be significant limits on abortion.
The fact is, the measures in the Left's abortion-on-demand legislation are extreme, even for Americans who identify as "pro-choice." For decades, Democrats have hidden behind their "safe, legal and rare" line, but in that time, they've continued pushing for an expansion of abortion options that are counter to the beliefs of most Americans.
It's time for Americans on both sides of the pro-life and pro-choice aisle to make clear that abortion-on-demand legislation that allows the targeting of babies for their sex or diagnosed genetic condition is unconscionable and un-American.
Rep. Ron Estes, one of only a handful of engineers in Congress, worked in the aerospace, energy and manufacturing sectors before representing Kansas' 4th Congressional District since 2017. He serves on the House Committee on Ways and Means and Joint Economic Committee.
The views expressed in this article are the writer's own.