House Democrats Prep to Pass Stimulus Bill That is Dead with GOP if Talks Fail
Once again, House Democrats are preparing to go it alone.
Amid renewed negotiations between House Speaker Nancy Pelosi (D-Calif.) and Treasury Secretary Steven Mnuchin, the House postponed plans Wednesday evening to vote on a trimmed-down $2.2 trillion stimulus package until Thursday to "give further room for talks," a Democratic aide told Newsweek.
Democrats have dubbed the new proposal the Heroes Act 2.0, which they unveiled this week after the last few months failed to produce a bipartisan agreement for another pandemic relief measure.
If a deal is not reached, the Democratic measure is expected to pass along mostly party lines. The proposal offers political cover for Democrats headed into tough re-elections on November 3, as moderates have grown increasingly anxious over Congress' stimulus inaction. The lack of progress has resulted in mounting pressure on Pelosi to allow another vote on some form of pandemic relief.
The new $2.2 trillion Heroes Act, which is scaled back from the old $3.4 trillion Heroes Act that the House passed in May, includes a second round of $1,200 checks, a $600 weekly federal supplement to unemployment insurance, $225 billion for education, $436 billion for state and local governments, food aid, airline industry and rental assistance, and Paycheck Protection Program funding.
But Senate Majority Leader Mitch McConnell reiterated that legislation of such size and cost is out of the question for Republicans, accusing it of being riddled with "poison pills." GOP lawmakers want a more tailored measure, such as the roughly $500 billion package Senate Democrats blocked Republicans from advancing earlier this month. Some Republicans have shown a willingness to spend more while many remain opposed.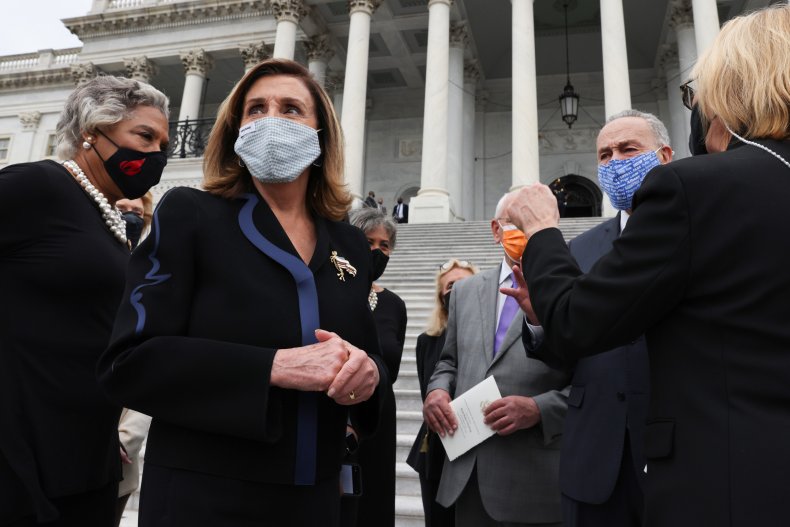 "We're very, very far apart," the Kentucky Republican told reporters.
At the same time, on the other side of the capitol building, Pelosi and Mnuchin were meeting.
"[$2.2 trillion] is too high," McConnell said. "The thought that Senate Republicans would jump up to $2.2 trillion is outlandish."
Despite the lack of a deal that's persisted for months, Mnuchin and Pelosi are vowing to continue their talks. Mnuchin later told Fox Business that both sides "reached an agreement" to include a second round of checks in a potential bipartisan package. He also added that Trump reiterated his desire for a more expensive offer than Senate Republicans have previously offered, saying "the president instructed us to come up significantly" from a prior $1 trillion proposal.
Mnuchin offered Pelosi a $1.62 trillion measure, according to Roll Call. It includes a $400 weekly jobless benefit boost, $250 billion for state and local governments, $150 billion for education, rental assistance and food aid.
The political reality is that Congress is still not poised to approve coronavirus-related legislation until after Election Day when tensions die down. Lawmakers are not expected to return to the nation's capital until after November 3 once they leave town later this week to campaign for the final weeks of the election.
Moderate Democrats had pushed House leadership to put forward a proposal that could muster bipartisan support rather than another messaging bill, raising questions about whether enough Democrats could buck the party and sink the $2.2 trillion package.
House Majority Whip James Clyburn offered few qualms about getting enough Democratic support to get it passed in the lower chamber.
"[There are] always concerns. We're not going to be alarmed by that," said the South Carolina Democrat, who did not whip the vote. "I feel certain that what we put on the floor, we'll pass."
The bipartisan group of House lawmakers who recently offered a compromised $1.5 trillion proposal took credit for getting Pelosi and Mnuchin back to the negotiating table, and offered an optimistic outlook on the prospects of a future agreement.
"Though a bipartisan deal has not yet been reached, it is vital that both sides continue their talks so we can provide significant relief that American families, businesses and local communities need to persevere through this crisis," Problem Solvers Caucus co-Chairs Tom Reed (R-N.Y.) and Josh Gottheimer (D-NJ) said in a joint statement.
"Walking away from the crisis facing our nation is not an option," they added. "Let's do our job and get this done for the American people."
This story was updated to include remarks from Mnuchin and reporting from Roll Call.