House Democrats Say Congress May 'Slip Past' Pelosi's September 27 Infrastructure Goal
Representatives Jim Clyburn and John Yarmuth, two senior House Democrats, said Sunday that Congress may miss the September 27 deadline set by Speaker Nancy Pelosi on the $1.2 trillion bipartisan "hard infrastructure" bill, because the $3.5 trillion budget reconciliation package could take longer to finalize.
With razor-thin majorities in both chambers and GOP opposition, Democratic leaders are facing a difficult path in advancing a sweeping infrastructure package that's key to President Joe Biden's agenda. Both bills are stuck in Congress, with Democrats in disagreement over the size and priorities that should be included in the larger package.
"I would say we're probably going to slip past the Sept. 27 date, sometime into early October would be my best guess," Yarmuth, the House budget chair, said on Fox News Sunday.
Moderate Senators Joe Manchin and Kyrsten Sinema believe the amount of spending in the package is too high. Meanwhile, some progressives—including Representatives Alexandria Ocasio-Cortez and Jamaal Bowman—oppose lowering the spending amount, indicating they'll only support the bipartisan bill if it's passed in tandem with the reconciliation package.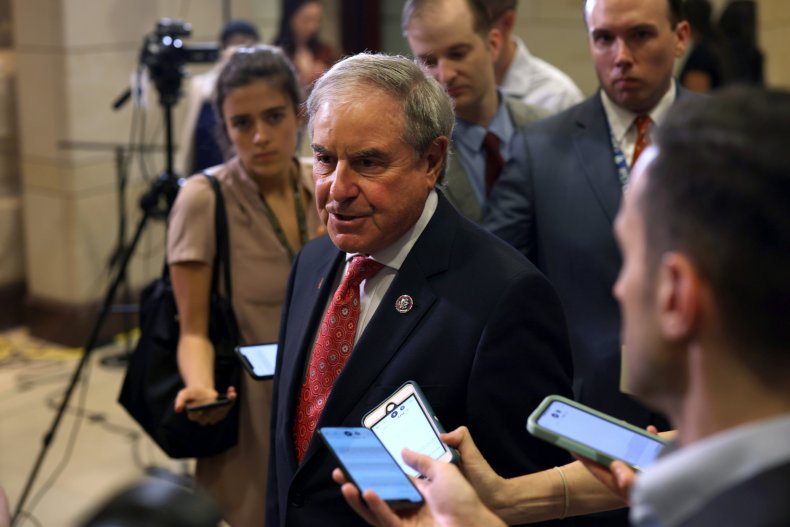 Clyburn, the House Majority Whip, said that there's still work to be done on finalizing the reconciliation package. Democrats are "working hard" to reach the September 27 goal, the South Carolina Democrat added.
"That's why we have so much work going on now," Clyburn said on CNN's State of the Union. "Our leadership is on this. We are working with everybody in all corners of our party. They're trying to get to a common ground on all of these issues."
Both lawmakers indicated that Democrats may lower the price tag attached to the larger reconciliation package. They also echoed the White House in urging critics to focus on the programs that need to be delivered, rather than the price tag.
"It may be $3.5, it may be really close to that or maybe closer to something else. So I think that we ought to really focus on the American people to think about what takes to get us in a good place and then let the numbers take care of themselves," Clyburn said. "We ought to stop focusing on the number and start looking at what needs to be done."
"If we have a desperate deficiency in social infrastructure in this country, access to affordable child care, the absence of early childhood education, the infrastructure for senior care," Yarmuth said. "I think that's what we need to focus on, not the money."
Pelosi has said she may hold off on passing the bipartisan bill to draw moderate votes for the reconciliation package.
"There's some flexibility in terms of how we mesh the two mandates," Yarmuth said. "One of them is to vote on that on the 27th, the second one is to not pass one without the other."
Democrats are planning to pass the reconciliation package by a simple majority without Republican support. However, all 50 Senate Democrats must vote for it, with Vice President Kamala Harris as the tie-breaker.
Biden told reporters Thursday he's "confident Congress will deliver to my desk both the bipartisan physical infrastructure plan and the Build Back Better plan that I have proposed."
The federal budget year ends at the end of the month, which further complicates the timeline for advancing the Democratic agenda. Congress will need to pass a temporary stop-gap measure or face a federal government shutdown on October 1.
Newsweek reached out to Senate Minority Leader Mitch McConnell for comment.