House Democrats Will Not Impeach Brett Kavanaugh from Supreme Court, Jerry Nadler says
Incoming House Judiciary Committee Chair Jerry Nadler said on Sunday that he would not pursue plans to impeach Supreme Court Justice Brett Kavanaugh.
Nadler previously said he would reopen an investigation into Kavanaugh's alleged sexual misconduct and conservative columnist Mollie Hemingway claimed last week that she heard the Democratic Congressman discussing plans to impeach the justice while on a train between Washington D.C. and New York City.
But on CNN's State of the Union, Nadler said there were no plans to try to remove Kavanaugh from the Supreme Court bench and that Hemingway was "not telling the truth," about the phone conversation she overheard.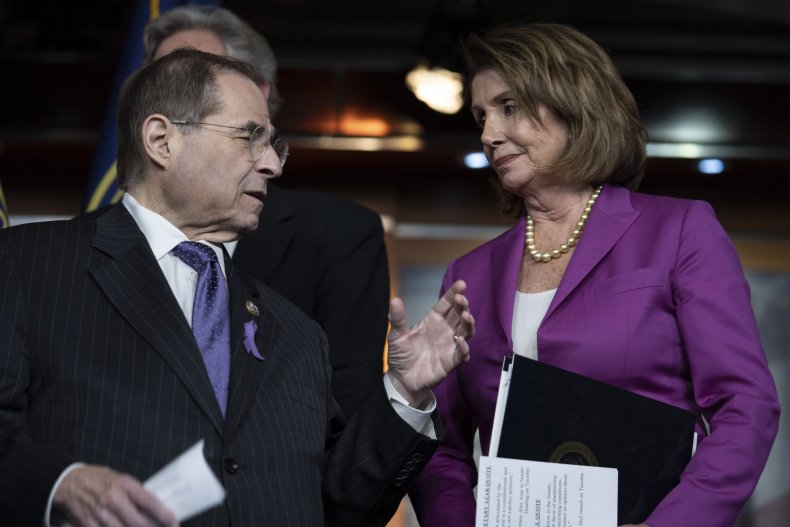 Nadler will, however, encourage an investigation of the FBI and White House's role in looking into the allegations of sexual misconduct made against Kavanaugh by at least three women.
"One of the things that the committee has to do is to investigate the question of the FBI not doing a proper investigation because of White House interference," he said.
Nadler previously said that if Democrats took control of the House, his committee would subpoena documents from the FBI and White House and seek to interview Kavanaugh's accusers and potential witnesses. He would also, he said, call on FBI Director Christopher Wray to testify.
Kavanaugh was accused in September by Dr. Christine Blasey Ford of participating in her attempted rape while in High School. Dr. Ford testified in front of Congress that the Supreme Court justice held her down on a bed and covered her mouth so she could not cry out for help during a house party. Two other women, Deborah Ramirez and Julie Swetnick also came forward to share similar stories.
The FBI conducted a brief investigation before the Senate voted to confirm Kavanaugh to the court but Democrats claim that the investigation was incomplete and that its scope was limited by the White House.
Nadler also spoke about the possible impeachment of President Donald Trump on Sunday.
"Impeachment is a question that will come up down the road, maybe, depending on the findings of the Mueller administration and of other investigations," he said. "We're far from that right now."
If the question of impeachment does come up, said Nadler, "one of the tests should be whether the evidence is so strong of misdeeds so terrible that...a very large fraction of the people who voted for this president will grudgingly acknowledge to themselves and to others that we had no choice but to impeach the president."